What to Know About China's National People's Congress
By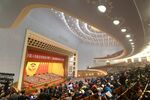 What should you know about China's annual National People's Congress, opening on Wednesday morning in Beijing's Great Hall of the People?
First, it's the only full session of the Congress held yearly, when some 3,000 delegates come from across China to meet; the Congress's 175-member standing committee in Beijing is in charge of legislative issues the rest of the year.
Each delegate to the National People's Congress serves a five-year-term after being elected by delegates to provincial congresses who were chosen by delegates from lower-level assemblies. "Only the lowest level of people's congress delegates—at county level or equivalent—are directly elected by their electorate," notes weekly finance magazine Caixin in a March 3 report on its English-language website.
While in session, the National People's Congress will approve laws, the budget, and key personnel decisions. Although abstentions and negative votes are increasingly common, "the NPC has never voted down a piece of legislation put in front of it by eligible government organs, including the State Council or the top court or prosecutor's office," says Caixin.
While the Congress will run from March 5-13, the Chinese People's Political Consultative Conference (CPPCC), China's top political advisory body, which opened its session on March 3, will meet until March 12.  The common shorthand for the twin annual sessions is lianghui, or "two meetings."
A key signal of the Chinese leadership's intentions will come in the announced growth target for 2014, to be released on the first day. That's when Premier Li Keqiang gives the gongzuo baogao, or "work report," something akin to a Chinese version of the U.S. president's annual State of the Union Address.
If the target gross domestic product is set again at "about 7.5 percent," as it was last year, that won't be good news for the sweeping economic reforms announced at November's Third Plenum. That's because moves to break up state enterprise monopolies and wean them off cheap credit—as well as slow the general growth of debt while encouraging development of a more consumption-driven economy—are expected to dampen growth in the short term. Maintaining the target at last year's level would suggest that the Party's worries about social instability that could result from economic cooling presently outweigh its resolve to reform.
There "is a growing recognition that China's structural problems need to be addressed and that this cannot happen if headline growth rates remain the first priority," write Mark Williams, Qinwei Wang, and Julian Evans-Pritchard in a March 3 report by London-based Capital Economics. "It would be disappointing if the target was left unchanged."