The Architect of Apple's Controversial Tax Strategy Retires
By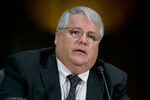 Apple said this morning that its chief financial officer, Peter Oppenheimer, will retire in September. He had taken a seat on the board of Goldman Sachs on Monday.
Oppenheimer had no hand in shaping Apple's famous product design, but at one point he was Apple's highest paid executive because of his work on some very lucrative, if less sexy, innovations. Apple's aggressive tax strategy was the subject of a lengthy article in the New York Times in April 2012, and the following month Oppenheimer was among the executives called to testify in front of a Senate subcommittee hearing. In a report, the Senate criticized Apple for shifting over $70 billion in income to an affiliate in Ireland,  where Apple had negotiated a tax rate of less than 2 percent from 2009 to 2012. During that period Apple's effective tax rate was about 25 percent.
Last year, Oppenheimer orchestrated a plan to fund a dividend and stock-buyback plan for Apple shareholders by selling $17 billion worth of bonds in a deal underwritten by Goldman Sachs. In doing so, he helped Apple avoid $9.2 billion in U.S. taxes that it would have had to pay had it used cash it held overseas, according to Moody's Investment Services.
In a statement, Apple praised Oppenheimer for having overseen a period in which the company's growth was truly stunning. "Peter has served as our CFO for the past decade as Apple's annual revenue grew from $8 billion to $171 billion and our global footprint expanded dramatically," said Tim Cook, the company's chief executive officer, in a statement. Luca Maestri, Apple's vice president of finance, will replace Oppenheimer.
During his time with Apple, Oppenheimer became one of the highest-paid executives in the U.S. Shortly after Steve Jobs died, Oppenheimer was one of several executives awarded huge stock grants that were intended to keep them from fleeing the company during a transitional period. Bolstered by the value of those grants, his total compensation that year soared to $68.6 million, making him the fifth-highest-paid executive from an Standard and Poor's 500-stock index company in 2012. That was over 16 times what Cook himself was making.