Selling Ragú: Here's Why Unilever Wants to Break Out of Jarred Sauce
by
In its latest effort to shed food brands, consumer goods giant Unilever is now looking to sell off Ragú, its line of jarred pasta sauces and related products. The company contacted H.J. Heinz, Kraft Foods, and Pinnacle Foods as potential bidders, according to a Bloomberg News report. 
Ragú (the brand uses an acute accent; the Italian word uses a grave accent) may still be the world's leading pasta sauce brand globally, with top position in the U.S. market, but there are a couple reasons why Unilever may want to sell the business.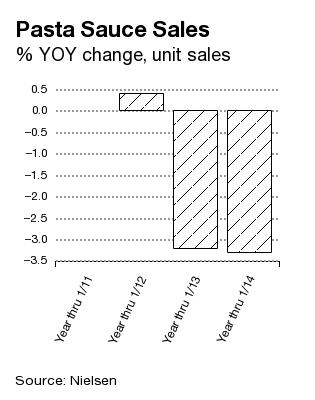 First, the U.S. pasta sauce market has slowed in the past few years, Nielsen data show. Volume sales dropped in the past two years after expanding slightly in 2011. U.S. retail sales of spaghetti and marinara sauce fell to about $1.78 billion in the year ended Jan. 18.
Midprice brands such as Ragú and No. 2 Prego face the particular problem of being squeezed on one end by low-cost competitors, such as private labels, and on the other by increasingly popular premium brands, according to Matt Hudak, an analyst at researcher Euromonitor International. Last year Ragú had 27 percent of the U.S. market, compared with Prego's 18 percent, according to Euromonitor data. Private labels, meanwhile, have nearly doubled over the decade, to 9 percent of the pasta sauce market.
On the high end, "natural sauce brands are well placed to benefit from the growing desire for greater provenance in food," reported Progressivegrocer.com. Even Newman's Own—marketed as "all natural"—held a little more than 4 percent market share last year, up from 2.4 percent in 2004, according to Euromonitor.

Unilever sold off its Skippy peanut butter and Wish-Bone salad dressing lines last year and had already shed the Ragú brand in the U.K. and Ireland in 2011. It has recently focused on turning around its spreads business, mainly margarine. Unilever Chief Executive Paul Polman said during an earnings call in January, "With our portfolio increasingly focused on our big global brands and a clear way forward for spreads, it is increasingly becoming ready to grow again." Say what you will about pasta sauce, nobody slathers it on anything with a knife.
Before it's here, it's on the Bloomberg Terminal.
LEARN MORE