On the Kremlin's Overseas Propaganda News Channel, Putin Really Rules
By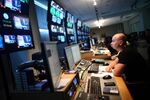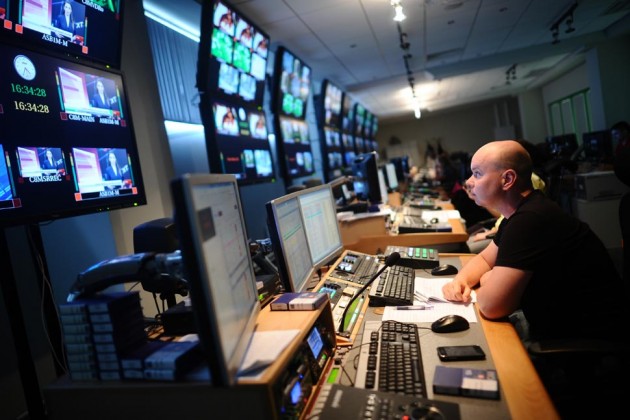 There was nothing subtle about cable-news personalities chattering on the TV in my New York living room: Vladimir Putin, as they repeated time and again, is a strong and just leader concerned with protecting Russian ethnics in the Ukraine from sinister Western forces and terrorists. The Americans? Feeble and duplicitous.
It wasn't a bold programming choice by CNN or Fox News. I was watching RT, Russia's state-sponsored international news network. At least, it looks like conventional TV news. And while Kremlin-controlled media outlets were busying spreading Putin's information campaign inside Russia over the weekend, it has been RT's job to disseminate the message to the rest of the world.
Since launching in 2005 as Russia Today, the news network has quietly propagated around the planet. It puts forth channels in English, Spanish, and Arabic, reaches an audience of more than 644 million via various satellite and cable-TV distribution deals, enjoys a large following on YouTube, and "is now available in more than 2.7 million hotel rooms," according to RT's website.
Before the past weekend, I had never watched anything on RT. Pretty much all I knew about the network was that it airs shows by Wikileaks dissident Julian Assange and  primeval newsman Larry King, neither of which seemed the most pressing enticements to tune in. Still, 2.7 million is a lot of hotel rooms. I was curious to see how the news professionals at RT might handle a tense standoff verging on an invasion of Ukraine. (You can watch a live stream of the English-language network for yourself).
Herein, several things I learned from RT's coverage:
• Putin is a force for peace. He is acting constitutionally.
• The Western media is hysterical. Also misinformed.
• Russia's economic clout would make sanctions difficult to enforce. (Fact: Russia exports a lot of palladium to the European Union.) Sanctions might be difficult, but probably not because of palladium.
• Residents of the Crimean peninsula are super-duper excited about the arrival of pro-Russian forces. Take it from RT: "Crimean locals give out sandwiches and tea, sing songs, and pose for photos with self-defense forces."
• John Kerry is a hypocrite. So, too, are Americans who pick and choose, based on their own self interests, when they care about other nations' sovereignty.
• Violent and treacherous radicals are destabilizing Ukraine. If you want to watch a lot of B-roll images of nonviolent state police being hit with various weapons by armed men, this is definitely the TV network for you.
• Americans stink at diplomatic poker and football. Here's how Nebojša Malić, director of the Reiss Institute for Serbian Studies, put it on RT over the weekend: "The Americans are playing the only games they know, which is poker and American football. So brute force and bluffing. But in this case, they're the scrawny nerd that can't run and can't pass and can't throw the ball and they're holding a pair of 7s. I'm honestly not sure who they think they are fooling." (During his sports analogy, Malic made no mention of hockey).
• RT's news desk is bigger than Shepard Smith's Fox News desk. Seriously, check out the size and sleek aerodynamic ramps on this thing. It could double as an X Games event.
• Pro-Russia rallies are all the rage right now in Ukraine. Lots and lots of celebratory waving of the Russian flag going on here.
In recent years, the U.S. has scaled back on some of the funding for its own government-backed international news outlets, such as Voice of America. The cuts have resulted in occasional bout of hand-wringing among U.S. politicians, including Hillary Clinton, who fret that China and Russia may be pulling ahead in the global TV-news propaganda arms race.
Meanwhile, a growing body of evidence suggests that the U.S. may have stumbled upon at least one economical way of undermining RT's credibility. Over the past year, erstwhile American action hero turned political critic Steven Seagal has appeared on RT a number of times, weighing in at length on such topics as terrorism prevention and the unmitigated greatness of Vladimir Putin. "He is one of the greatest world leaders, if not the greatest world leader, alive today," Seagal said on RT recently. "He's not afraid to stand up and do what needs to get done."
End scene. Please.
Before it's here, it's on the Bloomberg Terminal.
LEARN MORE