Minicars, Baby SUVs Reflect Automakers' Cautious Optimism in Europe
by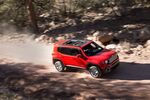 The Geneva Motor Show, which opens this week, is shaping up as a metaphor for the auto industry's cautiously optimistic outlook on Europe.
While predicting that the European market will return to growth this year, automakers are betting on smaller models to help ride out what Didier Leroy, head of Toyota Europe, described as a "very, very slow recovery."
Toyota is rolling out a new version of its pint-sized Aygo city car at the show. The three-cylinder model is produced in a joint venture with PSA Peugeot Citroën; the latter's Peugeot 108 and Citroën C1 cars are built on the same platform. And French automaker Renault is unveiling an update of its Twingo minicar in Geneva.
Fiat Chrysler is using the show to launch a small model, the Jeep Renegade compact sport utility vehicle. The Renegade, which will be built in Italy, shares underpinnings with Fiat's 500X, a crossover version of its popular Fiat 500 city car. The Renegade will be available in Europe in September, with U.S. exports planned for some time later. "The Renegade and 500X are perfect examples of something Fiat and Chrysler couldn't have done" before their merger, management professor Robert Verganti of Milan Polytechnic told Bloomberg. "They are exploiting Fiat expertise in small cars to timely launch a Jeep model in a segment that's actually booming."
European passenger car demand rose 5.5 percent in January, according to the European Automobile Manufacturers Association–the fifth consecutive monthly increase as the industry pulls out of a six-year slump. The group predicts European deliveries will rise 2 percent this year, above the forecast 1.2 percent growth across the 18 countries in the euro currency bloc.
Such modest numbers contrast sharply with the U.S., where auto sales jumped 7.6 percent in 2013, despite wintry weather that slowed yearend sales. Demand also is strong in China; BMW says it plans to add two factories there.
Reflecting the industry's more cautious approach in Europe, Citroën has announced plans for an urban crossover model, the C4 Cactus, which it says will target budget-minded buyers. The sales price hasn't been disclosed, but the company has said it will cost about 20 percent less to operate than comparably sized vehicles.
Before it's here, it's on the Bloomberg Terminal.
LEARN MORE