Facebook's Flying Internet Service, Brought to You by Drones
By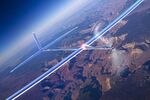 In recent comments about the $19 billion purchase of mobile messaging company WhatsApp, Facebook Chief Executive Mark Zuckerberg said that people shouldn't expect any new flashy acquisitions in the near future. After spending that kind of money, he said, "you're probably done for a while." But reports on Tuesday have the company closing in on a deal that is much less flashy in financial terms but far more so in technological wondrousness.
Facebook is reportedly negotiating an acquisition of Titan Aerospace, a tiny company in New Mexico that is constructing a pilotless, solar-powered plane designed to stay aloft for five years at a stretch. The deal would help bolster Facebook's Internet.org project, which is intended to expand access to areas that are currently offline. Titan hasn't responded to a request for comment, and a spokesperson for Facebook said the company doesn't comment on rumors and speculation.
Here's how it would work: A Titan Aerospace drone would be launched to its flying altitude of about 65,000 feet using a catapult, then hover above an area beaming an Internet data network downward. Solar panels covering the plane would provide it with power. Titan has been doing some test flights but isn't actually operating the vehicles yet. Its website says it will be ready for commercial use next year.
The idea of drones hovering over foreign lands for years at a time is not new. The Defense Advanced Research Projects Agency (Darpa) gave Boeing an $89 million grant in 2010 to help create such a plane as part of a project it called Vulture. Those planes would have been used for surveillance, not Internet access. The project was eventually scaled back to focus on fuel cells. Titan's chief executive, Vern Raburn, is a former Microsoft employee who ran another aviation startup, Eclipse Aviation, which went bankrupt in 2008.
If Facebook does launch Internet-bearing drones over developing lands, it won't be the only fanciful project run by a major consumer tech company. Google inspired a round of publicity for its Project Loon, in which balloons beam Internet signals to underserved areas. A fleet of the balloons is currently drifting over the sea near New Zealand.
Bill Gates has mocked such ideas, saying that Internet access isn't the major concern of the developing world. "When you're dying of malaria, I suppose you'll look up and see that balloon, and I'm not sure how it'll help you," he told Bloomberg Businessweek last summer. But that hasn't stopped Microsoft from pursuing a project of its own. It is running a pilot project that takes advantage of "TV white spaces," unused bands of spectrum allocated for television signals, to carry Internet signals to underserved regions in Africa.
Before it's here, it's on the Bloomberg Terminal.
LEARN MORE