business
Biggest Billionaire Losers in Crimea Crisis: Russians and Louis Vuitton
By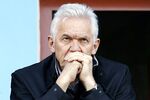 Markets tanked worldwide yesterday as the crisis in Crimea escalated. Plutocrats were hit especially hard. If you look at the top five money losers on earth, as measured by the Bloomberg Billionaires Index, a certain pattern emerges. They are:
1. Gennady Timchenko (Russia)
2. Leonid Mikhelson (Russia)
3. Vladimir Lisin (Russia)
4. Bernard Arnault (France)
5. Vagit Alekperov (Russia)
Wait, what's a French guy doing in there? Oh: He's chairman of LVMH Moet Hennessy Louis Vuitton, the luxury brand favored by ostentatious Russian oligarchs.
This chart shows the combined losses of the five Russians who were hit hardest:

The seventh- and eighth-biggest losers for March 3, Sergey Galitskiy and Vladimir Evtushenkov, are also Russian. Timchenko saw $1.7 billion evaporate yesterday, bringing his 2014 losses to $2.7 billion, while Evtushenkov lost nearly $880 million. Altogether the Russian billionaires saw $13 billion disappear, thanks to Russian President Vladimir Putin's decision to send some 16,000 troops to the Crimean peninsula. Russia's Micex index fell 10.8 percent on March 3, its biggest drop in five years. It rebounded 5.2 percent on March 4.
Before it's here, it's on the Bloomberg Terminal.
LEARN MORE