Won Shield Broken as China Shakes Haven Tag: Currencies
Kyoungwha Kim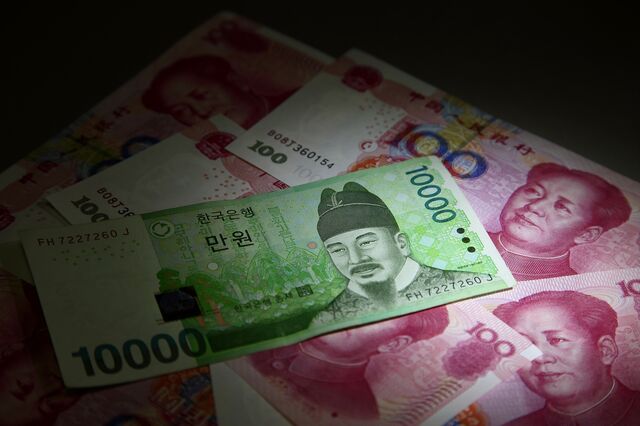 The ties with China that helped make South Korea's won a haven among emerging Asian currencies last year are turning it into a loser in 2014.
Lenders from Bank of America Corp. to Societe Generale SA have cut their forecasts, and now see the won falling about 2.7 percent by year-end, following a 1.9 percent drop in 2014 that has made it Asia's worst performer. The downgrades came after the won gained 8.8 percent in the second half of 2013 as Asia's best currency.
Exports to China, South Korea's biggest trading partner, swelled its current-account surplus to a record last year, helping the won buck the trend of capital flight from emerging markets as the U.S. Federal Reserve prepared to reduce stimulus. That link is now a liability as a record decline of almost 1.4 percent in the yuan last month adds to concern growth in the world's second-largest economy will be the slowest in 24 years.
"A significant portion of Korea's trade is with China, and also investment flows," Mitul Kotecha, the global head of foreign exchange at Credit Agricole SA in Hong Kong, said in a Feb. 25 phone interview. "The concern is that, with a slower economy in China and a weaker currency, investment and trade flows will lessen. That's why the won has become vulnerable."
Five-Month Low
The won's decline against the dollar since Dec. 31 comes after two straight years of gains. The currency touched a five-month low of 1,089.71 per dollar on Feb. 4, before paring its decline to 1,070.13 in Seoul today as the nation's president nominated central bank veteran Lee Ju Yeol as the new governor. Lee has been named to succeed Kim Choong Soo when the current Bank of Korea governor's term ends March 31. Now a professor at Yonsei University in Seoul, Lee started at the BOK in 1977 and was promoted to senior deputy governor in 2009.
Credit Agricole sees the won ending the year at 1,020 per dollar, making it more bullish than the median estimate of 1,054 in a Bloomberg survey of more than 25 strategists. In October, the median forecast in the survey was 1,095.
The yuan tumbled almost 1.4 percent in February to 6.1450 per dollar, the biggest monthly drop since China unified official and market exchange rates in 1994, according to data compiled by Bloomberg. Policy makers are moving to damp currency speculation as regulators said last week that two-way moves in the exchange rate will be the new "norm." The yuan has climbed 34 percent since a dollar peg ended in July 2005.
High Correlation
The daily correlation between the won and the yuan has remained at 0.62 over the past year, while figures for the Philippine peso and Indonesian rupiah were minus 0.87 and minus 0.86, according to data compiled by Bloomberg. A reading of 1 would mean the two were moving in lockstep, while minus 1 would signal they're heading in opposite directions.
Global funds sold a net $1.7 billion of South Korean stocks this year, switching from net purchases of $4.9 billion in 2013, exchange data show. Samsung Electronics Co., Asia's biggest technology company, reported in January fourth-quarter profit that missed analysts' estimates. Days earlier, Hyundai Motor Co., South Korea's largest carmaker, predicted the slowest growth in annual sales since 2006.
"I expect the won to depreciate this year, largely because it looks overvalued," Khoon Goh, a strategist at Australia & New Zealand Banking Group Ltd. in Singapore, said by phone on Feb. 24. "With the currency's strength last year starting to impact company earnings, I expect foreign investors to start shifting out of Korean equities. The won won't fare well if slowdown concerns emerge in China."
China Overspill
Shipments to China were the main driver last year of South Korea's record $71 billion current-account surplus, which jumped 47 percent from 2012's excess of $48.1 billion. The trade gap grew by 17 percent to $62.8 billion.
Now that China's economy is showing signs of slowing, its Asian neighbor is already being affected. The growth target, set at 7.5 percent last year, will be announced at this week's meeting of the National People's Congress in Beijing. In a Bloomberg News survey, 63 percent of economists predict the same number this year, while 33 percent see either a 7 percent goal or a switch to a range, such as 7 percent to 7.5 percent.
South Korea's exports expanded 1.6 percent in February from a year ago, official data showed on March 1, falling short of an estimate of a 2.9 percent gain in a Bloomberg survey. The current-account surplus was cut almost in half in January to $3.6 billion from December, data showed Feb. 27. The surplus will narrow to $55 billion in 2014, the Bank of Korea predicts.
Economic Plan
President Park Geun Hye said in a Feb. 25 speech outlining her administration's economic plan for the next three years that South Korea will seek to boost growth to 4 percent by 2017, the fastest pace since 2010 and up from 2.8 percent last year. Exports will increase 6.4 percent this year, the most since 2011, the trade ministry estimated in January.
Investors and traders use the won as a proxy to make bets on the yuan, according to Andy Ji, a currency strategist in Singapore at Commonwealth Bank of Australia. The Sydney-based lender predicts the currency will weaken to 1,100 per dollar by the end of March, before rallying to 1,050 by year-end.
The People's Bank of China controls the yuan by limiting its moves to a maximum 1 percent on either side of a daily reference rate. Speculation that authorities will widen the trading band under the nation's most far-reaching economic policy changes in a generation sent the currency tumbling last month.
China Overhaul
China's overhaul, which also involves promoting the yuan in overseas trade, is weighing on the economy as Premier Li Keqiang looks to shake off the nation's reputation as the world's factory floor, focusing instead on domestic consumption. The economy will expand 7.5 percent this year, the slowest since 1990, say economists surveyed by Bloomberg.
Investors from China, the third-largest block of foreign owners of Korean debt with 12.2 trillion won ($11.4 billion) in holdings, pared their positions by 280 billion won last month, the most since October 2012.
Options traders have increased bearish bets on the won this year, according to risk-reversal rates compiled by Bloomberg.
Contracts granting the right to sell the won against the dollar cost 1.57 percentage points more than contracts allowing purchases today. The premium for one-month options was up from 0.9 percentage point on Jan. 2, the narrowest in a year.
"South Korea's won is a well-known proxy for the Chinese currency," Oh Suk Tae, a Seoul-based strategist at SocGen, said in a Feb. 25 phone interview. "Speculators are making bets through the won, which is more liquid and volatile. It's being influenced the most as China goes through a tough time."
Before it's here, it's on the Bloomberg Terminal.
LEARN MORE