Taliban on Defense After Worst Pakistan Capital Attack Since '08
Khurrum Anis and Augustine Anthony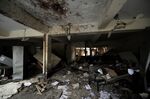 The Pakistani Taliban distanced itself from the capital's most lethal attack in more than five years, underscoring the difficulty of enforcing a cease-fire it declared three days ago to revive flagging peace talks.
Unidentified men armed with Kalashnikov assault rifles and bombs strapped to them killed 11 people at an Islamabad court complex yesterday, the deadliest attack in the city since the 2008 Marriott hotel bombing left more than 50 dead. While the Tehrik-e-Taliban Pakistan, or TTP, denied a role in the attack, a splinter group reportedly claimed responsibility.
"If there is any evidence of involvement of any of our groups, we will definitely question them for violating the orders of our leader and opposing our organization's policy," TTP said in a statement yesterday. "We are fighting for Shariah -- we consider any violation of the cease-fire un-Islamic and unlawful."
The incident threatens to scuttle Prime Minister Nawaz Sharif's efforts at peace talks as his administration weighs a military strike against the loose group of militants along the country's border with Afghanistan. More than 40,000 Pakistanis have died in violence since 2001, violence that poses a risk to Sharif's efforts to revive the economy after he won a $6.6 billion loan from the International Monetary Fund in September.
"It makes a mockery of peace negotiations when incidents of such serious nature continue to occur," said Talat Masood, a defense analyst based in Islamabad. "There is such a huge proliferation of militants. Neither the Tehrik-e-Taliban Pakistan nor the government has any control."
Talks Stall
The Taliban must denounce the Islamabad attack and identify the culprits, Interior Minister Chaudhry Nisar Ali Khan told lawmakers yesterday. Sharif scrapped peace talks on Feb. 18, weeks after officially starting the process, after a Taliban faction said it killed 23 paramilitary soldiers to avenge the deaths of their comrades in state prisons.
"Merely distancing itself from the incident will not be sufficient," Khan said yesterday during a late-night session of the National Assembly. "Terrorism and talks cannot go along together."
Peace negotiators from both the government and TTP condemned the attack. Among the victims were one judge and a female advocate. Nearly two dozen people sustained injuries from bullets and grenades.
"The government should refrain from blaming Taliban for all violence without any evidence," Maulana Samiul Haq, a TTP-backed negotiator in talks with Sharif's administration, told reporters. "Those responsible for sabotaging the peace process should be identified and arrested."
Cease-Fire Ignored
The Taliban on March 1 asked all its factions to respect a cease-fire for one month after the government demanded militants halt strikes unconditionally for negotiations to proceed further. Pakistan had halted air strikes against militant groups following the cease-fire announcement.
"It is the responsibility of the Tehrik-e-Taliban Pakistan to take action against those groups which are involved in violent strikes," Rustam Shah, a government peace negotiator, said from Islamabad. "Announce this, use its influence and overpower them, and corner them. That's its responsibility."
Ahrar-ul-Hind said it carried out the attack, the BBC reported, citing spokesman Asad Mansour. The report could not be independently confirmed.
Ahrar-ul-Hind broke away from the TTP last month because it disagreed with holding talks with the government, The Long War Journal reported on Feb. 11, citing a statement from Mansour. It seeks to implement Islamic Shariah law in Pakistan through violent means, the report said.
'Same Ideology'
The TTP emerged after the U.S. invasion of Afghanistan in 2001. Influenced by the Afghanistan Taliban, Pakistani factions want Sharif to end his country's alliance with U.S. forces fighting in neighboring Afghanistan, and introduce their interpretation of Shariah law.
"It's not whether TTP has done this or not, but the issue is all militant networks share the same ideology and tactics," said Raza Rumi, a senior research fellow at the Islamabad-based Jinnah Institute, a policy research group. "The ideology is that you have to attack the state, which is viewed as a partner or ally of the 'infidel' West."
Khurrum Anis in Karachi at kkhan14@bloomberg.net; Augustine Anthony in Islamabad at aanthony9@bloomberg.net
Before it's here, it's on the Bloomberg Terminal.
LEARN MORE