Rome's Oscar Triumph and the Way Cities Change (or Don't)
By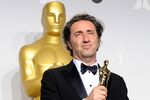 In Rome, it was a point of civic pride when The Great Beauty won the Academy Award for best foreign language film, no doubt aided by the lush showcasing of the city's gorgeous palazzos and entrancing light. On state-run radio, the win led the local news (followed by items on garbage dumps, arsenic in the water, and a factory closing). Italy's celebration of its first Oscar since Life Is Beautiful in 1999 seemed to reflect hope of a turnaround after a decade lost to recession, or at least a sign Italy could still succeed at moviemaking.
To the film's director, however, the point of The Great Beauty is more local. "It's about the miseries, splendors, joys of a city," Paolo Sorrentino told the Associated Press in January after winning the Golden Globe. His film captures the moment in which a writer, turning 65, realizes he's frittered away his life doing nothing but party in a city that never changes. It raises questions about the nature of cities and the roles they play in shaping lives, fortunes, and happiness.
As a Rome inhabitant, my first reaction to the film was gratitude that Sorrentino had created a visual time capsule of this moment in the city's history. Such New York films as The Goodbye Girl and Woody Allen's Annie Hall, both from 1977, have preserved the city of my youth in much the same way.
Then I realized Rome doesn't need time capsules. There's a reason it's called the Eternal City. The center of Rome is a living museum. The landmarks in Roman Holiday (1953) and La Dolce Vita (the 1960 Fellini classic that inspired The Great Beauty) are still here, right down to the neighborhood vegetable markets. By contrast, several 1970s Manhattan films depict swaths of Broadway that have since been completely remade, with vanished movie theaters and newly sprouted condo towers.
Is it possible the divergent paths of these cities reflect the fates of their citizens? To generalize grossly: Has unchanging Rome been soothing and stable while inhibiting innovation? Has constantly changing New York been unsettling while also inspiring creativity and economic growth? Which is best?
Spike Lee, whose films address these issues from the New York perspective, recently used raw language to outline his position on gentrification: Rising property values in Brooklyn aren't a desirable end if they cause long-time residents to sell their homes and leave the city, he said, and new arrivals should be more respectful of local culture.
Yet in The Great Beauty, it's the lack of change in Rome that appears to have caused harm, lulling protagonist Jep Gambardella into a false sense of success after writing just one acclaimed book. Others are also coasting as they take in the view of the Colosseum. If they've all squandered their talent, is Rome to blame?
Cities face trade-offs. On a Manhattan corner where decades ago I saw two girls slashing at each other with broken bottles, a playground has been replaced by a luxury high-rise and a new Starbucks has attracted something previously alien to the neighborhood: Italian tourists. Unpack those outcomes, and there's something for everyone to hate or love. Meanwhile, Rome is certainly doing something right: It just brought home an Oscar—and the coffee is better.