pursuits
Jeep and Subaru Win a Snowy Month of Car Sales
By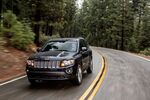 Now it's the car executives' turn to gripe about the weather. The auto industry reported fairly lackluster February sales today, blamed largely on the cold and snow that kept customer from making trips to the dealership. Or so the theory goes.
"I don't like to make excuses, but the awful weather we saw across the country really hurt traffic to our dealerships," Bob Pradzinski, Hyundai's vice president of sales, said in a statement. The weather blame game is a corporate cliche, but that didn't stop the Hyundai executive from layering on another: "They say, 'If you want to see the sunshine, you have to weather the storm,' so we're all looking forward to some sunshine in March."
General Motors also reported a slight decline in sales, while Ford slipped 6.1 percent.
Chrysler, by contrast, was as gleeful as a teenager driving doughnuts in a snowy lot. It posted its best February sales since 2007, thanks to a strong lineup of SUVs. The company offloaded almost 46,000 Jeeps (pdf), 47 percent more than it sold in February last year. And Subaru continued to sell cars as fast as it could make them (with a little push, perhaps, from one of its harrowing Japanese commercials making the rounds on YouTube).
Nissan also did well, but at a cost. It sold 15.8 percent more vehicles in the U.S. than it did in February 2013, thanks in part to its popular Rogue SUV. But it also dangled big discounts and incentives.
Several executives said sales picked up near the end of the month as Olympic advertising got traction and car-rental companies started building up their fleets for spring. Ford said its fleet sales slipped 10 percent in February because of the polar vortex.
Here's a look at how the field finished:

Before it's here, it's on the Bloomberg Terminal.
LEARN MORE