Serbia's Vucic Goes From Milosevic Aide to EU Cheerleader
Gordana Filipovic and Michael Winfrey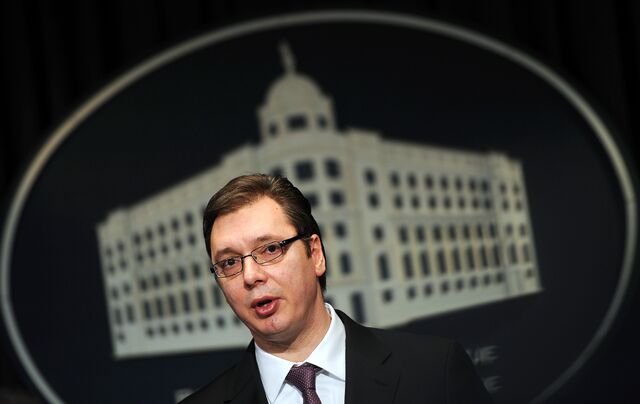 Eight years after Aleksandar Vucic rallied behind war-crimes suspects and tried to shield Serbia from western influence, he's poised to take over the government after a March 16 election as a pro-European reformer.
The 44-year-old deputy prime minister, who said in 1995 that his country would kill 100 Muslims for every Serb who died, abandoned the path followed by his nationalist mentors into the wars that broke up Yugoslavia the 1990s. He's now pledged to join the European Union in record time and embrace austerity measures endorsed by the International Monetary Fund.
The Balkan state achieved membership status in the 28-member EU in January, years behind former Yugoslav partners Slovenia and Croatia, which joined in 2004 and 2013. Having watched living standards in those countries soar while their own remained stagnant, Serbs have pushed Vucic and other leaders to ditch a strategy of confrontation.
"The EU agenda is still a winning ticket in elections in Serbia and Vucic must have convinced himself that he, too, believes in the EU," said Djordje Vukadinovic, who teaches the philosophy of politics at Belgrade University, by phone on Feb. 26. "His transformation has come from a need to survive on the political scene and grab power after 20 years of opposition activity, defeats, and Pyrrhic victories."
Forced Election
Vucic and his Progressive Party, the biggest force in parliament, engineered the early ballot last month, half way through the government's four-year term under Prime Minister Ivica Dacic.
The Progressives had 45 percent support, followed by 13 percent for Dacic's Socialist Party, according to a poll from Belgrade-based Faktor Plus poll taken on Feb 22-25 among 1,100 people. It had a margin of error of 3 percent.
A tall, bespectacled law school graduate and former journalist, Vucic has promised to overhaul the economy. With Serbia's 1.7 million workers numbering the same as pensioners and 82 percent of young people wanting to move abroad, his plan includes streamlining the pension and health-care systems and selling or closing hundreds of state-owned companies.
"Our job is not to lie to the people, but to tell them how difficult it will be," Vucic told Pink TV broadcaster on Feb. 12. "We are facing a tough period and lots of work, but we will see the light at the end of the tunnel."
Turning Around
Investors have responded by pushing down the yield on the 2021 dollar bond to the lowest since May 28, 2013, according to data compiled by Bloomberg. Having fallen from a record-high 7.469 percent on Sept. 10 to 5.334 percent on Friday, the yield rose 15 basis points, or 0.15 percentage point, to 5.483 percent by 2:47 p.m. in Belgrade.
The EU drive is a turnaround for Vucic who, like Dacic is trying to shake off associations with his past.
Once a prominent member of the Radical Party led by Vojislav Seselj, who is now awaiting a verdict on charges of war crimes and crimes against humanity in the Hague, Vucic warned the international community in 1995 from intervening in Serbia's conflict in Bosnia.
"You kill one Serb and we will kill 100 Muslims," he told parliament that year. "So let's see if the international community or anyone else dares attack."
While serving as former strongman Slobodan Milosevic's information minister in 1998, Vucic fined and shuttered newspapers that criticized the government.
In 2006, he campaigned for Seselj, who was the best man at Vucic's wedding and godfather to his children, as well as war crimes suspects Ratko Mladic and Radovan Karadzic. He also condemned the EU as a group of nations after cheap labor and consumers.
'Mistakes' Made
"I really made mistakes," Vucic told Vreme magazine in an interview published on July 11, 2013, adding he had "neither the strength nor courage" to leave Milosevic's cabinet in 1998 before a NATO bombing campaign forced Serb troops out of the breakaway province of Kosovo.
Vucic has also bolstered his image by becoming the face of an anti-corruption drive. He presides over news conferences to announce major arrests, including that of Serbia's richest man, Miroslav Miskovic, on charges of illegally siphoning off state funds from road contracts in December 2012.
Vucic is now pushing to renew an IMF funding deal that the Washington-based lender abandoned two years ago when Serbia failed to meet fiscal commitments. Serbia needs to cut budget spending by 400 million euros to qualify, Vucic said on Feb. 3.
He pushed for Dacic's cabinet to hire former IMF chief Dominique Strauss-Kahn as an economic adviser and appoint ex-McKinsey & Co Inc Associate Lazar Krstic as finance minister.
Unprofitable Assets
He plans to end decades of failed efforts to sell state-owned companies that cost about 750 million euros a year to keep afloat. The cabinet is seeking buyers or partners for at least 153, employing with 58,000 workers, this year.
The measures may be a surprise for some voters who, after years of budgetary excess under previous governments, may not be ready for the type of austerity undertaken by EU states such as Slovenia or Romania, Marko Blagojevic, program director at the Belgrade-based Centre for Free Elections and Democracy, said by phone on Feb. 18.
"There will be job losses," Blagojevic said by phone on Feb. 18. "But people, their voters, seem to think it will happen to someone else, not them."
Before it's here, it's on the Bloomberg Terminal.
LEARN MORE