Palm Oil Export Growth Stalling in Indonesia on Biofuel Jump
Yoga Rusmana and Eko Listiyorini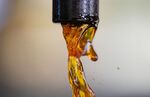 A jump in palm oil consumption for biodiesel in Indonesia, the world's biggest supplier, will probably mean that shipments fail to increase this year for the first time since 2010 even as production climbs to a record.
Exports may total 21 million metric tons, similar to 2013, as consumption climbs as much as 38 percent to 11 million tons and production expands to 28 million tons to 31 million tons from 26.5 million tons, according to Fadhil Hasan, executive director of the Indonesian Palm Oil Association, a producer group. His estimate would make the country the largest palm consumer, according to U.S. Department of Agriculture data.
The world's most-used edible oil had its biggest advance last month since October and climbed to the highest level since 2012 as dry weather threatened crops in Indonesia and Malaysia, which represent 86 percent of world supply, and governments of both countries required more palm to be used in diesel fuel.
"The orientation of palm oil was always for export," Hasan said in an interview in Jakarta. "Now we see domestic consumption and biodiesel is the most significant factor if the government is really committed to the program."
Futures rose as much as 2.1 percent to 2,860 ringgit ($872) a ton on the Bursa Malaysia Derivatives today, the highest price since September 2012, before closing at 2,806 ringgit. Prices advanced 9.4 percent last month as soybeans climbed 10 percent and corn added 6.8 percent.
Diesel Blending
As much as 3.4 million tons of palm will be used for biodiesel this year in Indonesia, Hasan said on Feb. 24, after Southeast Asia's biggest economy increased the blending rate to reduce import costs and narrow the current-account deficit.
Indonesia boosted in September the amount of biodiesel blended with fuel to 10 percent from 7.5 percent and power plants had to blend 20 percent from January. PT Pertamina has already secured 2.4 million kiloliters of biodiesel, 45 percent of the 5.3 million kiloliters it's seeking for this year and next, the state oil and gas company said Feb. 16. Pertamina will hold more auctions to buy the remainder.
Malaysia is extending its B5 biodiesel program in the country which will result in consumption of 500,000 tons of palm methyl ester annually, according to the government.
"The demand side of the equation has been overtaken by biodiesel," Dorab Mistry, director of Godrej International Ltd., said by e-mail. "It remains to be seen how much of the Indonesian mandate is actually fulfilled."
Price Gains
The advance in palm prices meant discretionary blending in biodiesel was no longer attractive so growth in demand would depend on the willingness of Indonesia and Malaysia to ramp up and enforce mandates, said James Fry, chairman of LMC International Ltd., in an interview in Kuala Lumpur today.
Dry weather in Malaysia and parts of Indonesia is threatening to curb supply of palm oil just as demand in biodiesel increases. Michael Coleman, who helps manage the $143 million Merchant Commodity Fund in Singapore, said on Feb. 25 that prices may advance to 3,000 ringgit within four months as traders anticipate the impact of dry weather on production.
Hasan, Mistry, Coleman and Fry speak at the Palm and Lauric Oils Conference, which starts in Kuala Lumpur tomorrow.
Shipments of palm and palm kernel oil from Indonesia climbed 24 percent to 21.22 million tons in 2013 from 17.09 million tons in 2010, the last year when they showed little change, data from the association, known as Gapki, show.
Inventories in Indonesia declined as low as 1.8 million tons at the end of 2013 from about 4 million tons a year earlier, Hasan estimated. That compares with the median estimate of 2 million tons for December in a Bloomberg survey.
New Administration
President Susilo Bambang Yudhoyono said in November that Indonesia should frame a policy to boost consumption of palm for biodiesel. Yudhoyono will have to step down after the presidential election in July as he can't run for a third term. Hasan said the new administration must improve infrastructure.
"Downstream processing can grow if we have good infrastructure such as roads, ports and storage tanks," said Hasan. "We haven't seen good progress yet."
The association also requested that parliament and government require companies to report production, export and inventory data, said Hasan. "We proposed that this should be included in the plantation law being discussed in parliament," he said. "This is really an embarrassment that we don't have good, reliable data like Malaysia."
Gamal Nasir, director general of estate crops at the Agriculture Ministry, said by phone on Feb. 28 that ideas for revising the law were being gathered and it's being discussed by the working committee.
Before it's here, it's on the Bloomberg Terminal.
LEARN MORE