In Crimea's Capital, Gratitude for a Russian Takeover
Sarah A. Topol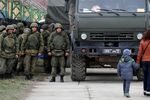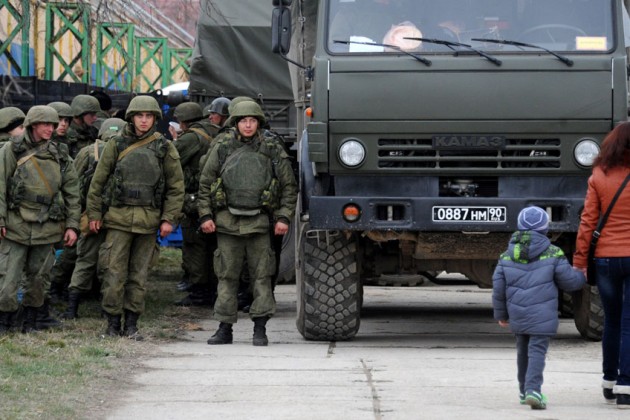 As politicians in Kiev and Moscow beat the drums of war, the capital of Crimea seemed peaceful Sunday afternoon with Russian troops continuing their incursion into the autonomous peninsula that juts into the Black Sea. Residents of Simferopol strolled through the pedestrian boulevards of downtown, carrying coffee, pushing strollers, or walking tiny dogs.
Some stopped to listen to the small pro-Russia protests in front of the Crimean parliament. "We love Russia, we love Putin, we love Soviet history!" Anna Kaftanova shouted into the microphone to applause from the few dozen who had assembled at the rally. "No western leaders have come here to hear our side," she continued, echoing complaints of ethnic Russians here who have been watching the international community's response to the requests of the leadership in Kiev for support against president Vladimir Putin's show of strength in the peninsula.
On Sunday, Ukraine put its military on high alert and threatened war against Moscow if the Kremlin made any further incursions into Ukrainian territory. The day before, Russia's parliament approved President Vladimir Putin's request for the use of troops in Ukraine. Since Feb. 28 masked armed men, widely believed to be Russian soldiers, have been seizing facilities in Crimea. More arrived outside Ukraine's infantry base in Privolnoye in Crimea on Sunday, blocking the exit of Ukrainian troops stationed there, but not entering the base. The vehicles had Russian license plates, according to the Associated Press.
Other armed men in neat, matching uniforms continued standing in front of the Cabinet in Simferopol on Sunday, as passersby took pictures, cheered at the pro-Russian slogans and waved Russian flags.
Their support for the Russian president is not surprising. Soviet leader Nikita Krushchev handed Crimea to Ukraine in 1954, and ethnic Russians make up 59 percent of the region's population, according to 2001 census data.
Many on the streets seemed to welcome the continued incursion, saying the Kremlin was their only guarantor of stability. They referred to the interim government in Kiev as "fascist," due to the presence of ultranationalist right-wing groups in the three months of protests that led up to the ouster of president Viktor Yanukovych last Saturday.
"Make no mistake about it, they are not occupying us, they are protecting us," said Tatyana, an older woman who refused to give her last name for fear of what would happen if the Russian troops left. She said western Ukrainians were calling the pro-Russian segment "separatists" and suggested they would come to take their revenge if Russian forces left.
"Three months of chaos in Kiev. I didn't sleep, I woke in the night worried and scared. The first night I slept well was when I knew they came," she said of Russian troops. Many Russian speakers here watch Russian television, which has been deriding the Kiev protests since the beginning and highlighting the role of ultranationalist groups in the uprising. One of the first actions of the Ukrainian parliament after former President Viktor Yanukovych's ouster did not quell their fears: The government repealed a 2012 law that allowed regions to use Russian as a second national language.
On Saturday the new pro-Russian leader of Crimea, Sergey Aksyonov, appealed to Putin for help maintaining security in Crimea. Aksyonov, who had been chosen in secret after armed men took over the Crimean parliament on Thursday, also said that a referendum on greater Crimean autonomy would be moved up to March 30 from the originally announced date of May 25.
Not everyone around the city center was as pleased. Danil Dmitriv, a 28-year-old office worker, watched the armed unmarked troops outside the Cabinet with derision, saying everything in Crimea had been fine before the political saber rattling began.
"Everyone wants to decide everything for us, but we want to decide things for ourselves," Dmitriv said. "I don't want to be a part of Russia, even though I was born in St. Petersburg and have family there. I want to be autonomous and have neutral relations with everyone." He worried that Ukraine's interim government asking NATO for assistance would create a real war, like the Balkans. "I just want everything to be normal."
Despite the uncertainty over what may come ahead, life in the capital continued as normal, with shopping malls and restaurants open for business and Whitney Houston's I Will Always Love You blasting from inside the premises. Shopkeepers reported a normal flow of customers, and at one restaurant a group of pro-Russian men toasted to a peaceful solution with shots of vodka. "We've had enough bloodshed already," one man shouted.
Before it's here, it's on the Bloomberg Terminal.
LEARN MORE