Riding the Miami Food Machine, for All It's Worth
by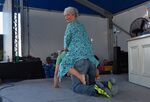 Miami now looks to spring break, with the passing of the 13th annual Food Network South Beach Wine and Food Festival , where attendees ate like you hope the kids won't drink, and where "many of the greatest chefs in the world meet like Mafia dons," said a lanky, sunburned Anthony Bourdain, hosting a dinner.
There, too, Paula Deen attempted a comeback from her racial scandal byriding chef Robert Irvine like a horse and hollering that she was "back in the saddle," to cheering crowds. Well, it's one way to come back from a scandal; time will tell. Like Miami, Deen now looks to the year ahead. She has announced a new, $20 million restaurant in Pigeon Forge, Tennessee. Meanwhile, at the festival, she fought for industry turf like the rest of the dons and donetttes.
This year's extravaganza had 189 sponsors and 60,000 ticket holders, who together spent $9.7 million over the weekend, as Bourdain made fresh wisecracks, Emeril Lagasse played emcee and Deen, well, we mentioned. To meet the man behind it all, I drove down Collins Avenue, passing beach tents the size of football fields, hotel lots jammed with black town cars and street lamps flying Rachael Ray flags as far as the eye could see.
Lee Schrager welcomed me into the Loews Hotel press room. Schrager, 54 years old, is founder and director of the festival and VP of communications for the largest alcohol distributor in the U.S., Southern Wine & Spirits , which pours all the alcohol at the shindig. His worn jeans and hearty laugh belied his power. There were six staff members swarming around him.

When Schrager started the festival in 2002, there was no network attached, no big hotel deals, no mayoral support. Now, all these things have helped it become the biggest foodfest in the country, by ticket count, and it's generating more money than ever. With a production cost of $7.6 million, what's left, $2.1 million, was donated to Florida International University's Chaplin School of Hospitality & Tourism Management . To date, the festival has raised more than $18 million for the school.
"Our PR and marketing campaign gave sponsors three billion media impressions spanning broadcast, print and the web," said Schrager. Maybe that's why Emeril was hopping between events like a cooking show rerun, calling the festival "the Big Machine."
The Food Network has been the festival's biggest sponsor since 2007. Last year, when it made its annual "undisclosed charitable donation," the network reached 64 million viewers, according to its marketing reports. Its festival stars were showcased on national programs like NBC's "Today Show" and ABC's "The Chew." This year, brand names like Ray and Martha Stewart were deployed to reach fans in person and on multiple digital platforms to attract more viewers.
Fifteen resort hotels, including the Ritz-Carlton, the National Hotel and the Loews, festival HQ, sold out for the four-day affair. To secure this business, the Loews provided complimentary rooms to Lee Schrager & Co., and all hotels offered discount rates for Food Network talent.

The city takes its own cut. Since 2008, resort tax revenue has jumped by 47 percent during the festival month of February, according to Miami's Office of Tourism, Culture and Economic Development. This increase got Mayor Philip Levine's attention, as did the 17 percent jump in Miami Beach tourism in the last two years.

"This festival is the Art Basel of food and wine," said Mayor Levine, referring to the annual gathering of international artists and collectors in Miami, before calling Schrager "a pioneer and a visionary."
As for Schrager, he's well aware of his place in the machine. In fact, he's proud of it. "I've known the Food Network personalities since the beginning of their careers -- the Bobbys, the Rachaels, the Emerils -- and I got 'em early." He paused, reflecting on the past 13 years of festival relationship building.

"I don't know if they still love doing this. They certainly don't need to do a junket," he said. "They do it because they know me."

Before it's here, it's on the Bloomberg Terminal.
LEARN MORE