The Search Is On for a Chinese Ultimate Fighting Champion
By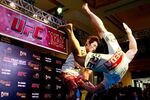 Mark Fischer knows about how to build an audience in Asia for a U.S. sports league. Fischer is the National Basketball Association's former senior vice-president and managing director for China and helped make the professional basketball league a hit with Chinese audiences. Now Fischer is trying to pull off the same trick, this time without the benefit of a home-grown superstar such as Yao Ming.
The 53-year-old Boston native is the executive vice president of Ultimate Fighting Championship, the Las Vegas-based operator of mixed martial arts events and TV shows. This weekend, UFC is showcasing 18 of its fighters in Macau, with the main card featuring welterweights South Dong Kyun Ki, aka "Stun Gun," vs. John "The Hitman" Hathaway.
In theory, creating an audience for mixed martial arts shouldn't be too hard in Asia, home to taekwondo, Muay Thai, and wushu. But UFC is still getting started in the region. A launch in Japan "is looking real good," Fischer says, and talks are underway to take UFC to South Korea, although there is a shortage of suitable venues. "It will happen," he says. In Korea, "we're waiting for Godot, but he's coming."
The growth of the casino gambling industry in Asia should provide a boost to Fischer's efforts. The UFC's home is in Vegas, after all, and casinos are obvious partners. Lawmakers in Japan are considering a proposal to legalize casino gambling in the country, and developers from Malaysia and China have recently announced plans to build a $2.2 billion gaming and hotel resort on Korea's Jeju island.
UFC has already found a home in the region's premier gambling hubs, Macau and Singapore. UFC has had events in both cities. The mixed martial arts promoter has also teamed up with Sands China, the Macau subsidiary of gambling tycoon Sheldon Adelson's Las Vegas Sands, to sponsor 12 episodes of a UFC reality-television program on a satellite TV channel from the northeastern Chinese city of Liaoning.
The goal is to find Chinese fighters who can then take part in UFC events and build a fan base in the mainland. Finding a local hero is an important part of Fischer's plan. "It may take us a few years to really develop that superstar, but it is going to happen," he says. "We are going to have a Chinese champion in the UFC."
Before it's here, it's on the Bloomberg Terminal.
LEARN MORE