Strikes and Political Turmoil Put Cyprus Bailout at Risk
By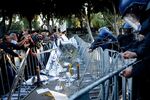 Is Cyprus, Europe's most-recently bailed-out economy, in danger of skidding off the track?
The Cypriot parliament on Thursday rejected a plan to sell off state assets, including the country's electricity, telephone, and ports authorities. The vote prompted warnings from the so-called troika of the European Commission, European Central Bank, and International Monetary Fund that if the privatization law is not passed by March 5, Cyprus will not receive the next tranche of its €10 billion ($13.7 billion) bailout loan. Parliament has scheduled a second vote on the measure for March 4.
This week's vote took place after Cyprus's Democratic Party withdrew from the coalition government of President Nicolas Anastasiades. With the coalition now controlling only 21 of 56 seats in parliament, "things are going to get more difficult," opposition lawmaker Angelos Votsis told Bloomberg News.
The privatization plan has triggered strikes at state-owned businesses, including a protest by electric-utility workers that caused rotating power cuts across the country this week.
The irony is that the Cypriot economy isn't doing that badly. Although it's still in recession following a 6 percent contraction in 2013, the EU is forecasting a return to growth next year. "The economy is proving more resilient than expected when the [bailout] program was launched," EU Economic and Monetary Affairs Commissioner Olli Rehn said earlier this month.
Yields on Cypriot debt maturing in February 2020 are below 7 percent, down from almost 14 percent last summer. And the government recently began easing controls on domestic cash transfers, part of a package of capital controls imposed last year to prevent depositors from pulling money out of Cypriot banks.
Still, Finance Minister Haris Georgiades has said that Cyprus "can't afford to risk" losing the next installment of its troika bailout. Just today, the Bank of Cyprus cited "ongoing challenging economic conditions" as it reported a 2013 net loss of €2.04 billion.
Before it's here, it's on the Bloomberg Terminal.
LEARN MORE