Hog Futures Rise to Record on Supply Woes as Pig Virus Spreads
Megan Durisin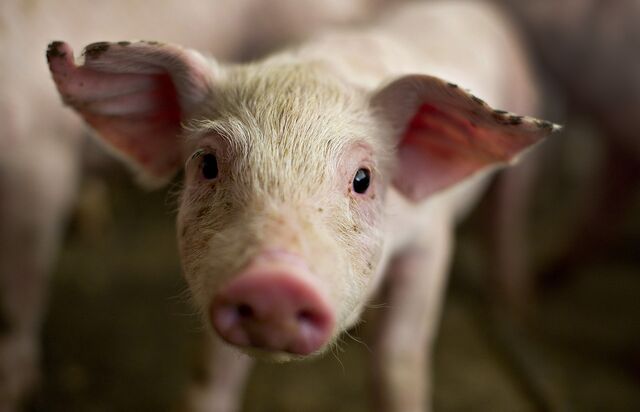 Hog futures rose to a record, joining this month's cattle rally to an all-time high, as supply concerns mounted amid a spreading virus that kills piglets and signs that U.S. pork output is declining.
Porcine epidemic virus, or PED, has killed more than 4 million pigs in the U.S., according to the National Pork Producers Council. As of Feb. 22, 16.3 million hogs were slaughtered in 2014, down 2.7 percent from a year earlier, government data show.
Hogs have jumped 25 percent in 2014, the second-biggest gain among 24 raw materials in the Standard & Poor's GSCI Spot Index. Demand for pork has increased as beef costs climbed. U.S. consumers will pay as much as 3.5 percent more for meat this year, compared with a 1.2 percent advance in 2013, the government has forecast.
The slaughter "tends to decline all the way into summer," Dan Vaught, an economist with Doane Agricultural Services Co. in St. Louis, said in a telephone interview. "The PED virus, whether or not it's having an impact now, is certainly expected to."
Hog futures for April settlement climbed 2.9 percent to close at $1.0685 a pound on the Chicago Mercantile Exchange, a record high, rising by the 3-cent exchange limit. Trading more than doubled compared with the 100-day average for this time, according to data compiled by Bloomberg.
Global AgriTrends, a Denver-based research company, has said the PED virus may kill as many as 5 million pigs, or about 4.5 percent of the animals sent to processing plants last year in the U.S., the world's biggest pork exporter.
'Seasonal Decline'
The market "is looking at two issues: the seasonal decline in slaughter, which starts in April, and the trade has a very clear expectation that PED will be a March or April issue, not just a summer issue," Rich Nelson, the director of research at Allendale Inc. in McHenry, Illinois, said yesterday in a telephone interview.
Yesterday, hogs jumped 2.8 percent, the most since March 7, partly on speculation that demand for pork will increase as a cheaper alternative to beef.
"We're putting out 5 percent to 6 percent less beef than last year," Nelson said. "People are scrambling for pork to fill this beef deficit."
Cattle futures for April delivery rose 0.4 percent to $1.44975 a pound. Yesterday, the price reached a record $1.45975.
Feeder-cattle futures for May settlement dropped 0.2 percent to $1.737 a pound. Yesterday, the price reached a record $1.7525.
Ranchers Struggle
Ranchers are struggling to boost their cattle herds from a 63-year low following a drought and high livestock-feed costs.
Beef output in the U.S., the world's top producer, will fall 5.3 percent this year to 24.35 billion pounds (11.04 million metric tons), the lowest since 1994, the USDA has forecast. At the start of this year, the cattle herd declined to 87.7 million head, the lowest since 1951.
This year, wholesale pork has climbed 22 percent to $1.029 a pound, and beef gained 12 percent to $2.2456 a pound.
Itar-Tass reported yesterday that Russia will resume imports of U.S. pork without the livestock-feed additive ractopamine on March 10. The U.S. Department of Agriculture and industry groups said they haven't received confirmation that Russia will lift a year-old ban soon.
The Itar-Tass report cited Alexei Alexeyenko, an assistant to Russia's agricultural watchdog.
Russia was the fifth-largest importer of U.S. pork in the third quarter of 2012, purchasing 5 percent of the total behind Japan, Mexico, China and Hong Kong, and Canada.
Tight Supply
An end to the Russian ban "is definitely one small piece of demand added into the very tight supply picture lined up" in the U.S., Nelson of Allendale said.
Russia banned pork imports from the European Union after African swine fever was found in wild boars in Lithuania.
A 63 percent surge in coffee futures this year leads prices in the GSCI index, which has climbed 2.6 percent.
Hogs are heading for the biggest gain to start a year since 1999, when prices rose by a record 67 percent.
Before it's here, it's on the Bloomberg Terminal.
LEARN MORE