Greek Yields Fall Below 7% as Crisis Source Regains Confidence
Lukanyo Mnyanda and Anchalee Worrachate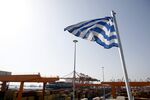 Four years after threatening to splinter Europe's monetary union, Greek bond yields are back below 7 percent as signs Europe is putting the debt crisis behind it boost demand for the region's assets.
The average yield to maturity on euro-area government bonds is at a record-low as investors regain the confidence to search for higher returns than those on benchmark German debt. The drop in Greece's yields marks a turnaround for a country that was rescued by its neighbors as borrowing costs surged, triggering the region's debt crisis. The euro is trading at its highest level this year. Exchange-traded funds investing in European assets added $5 billion in the first two months of 2014.
"It shows that there is a lot of faith in the euro zone," said Michael Leister, a senior fixed-income strategist at Commerzbank AG in London. "Investors are desperate for a yield pick-up. Also growth is picking up in the periphery."
Greek 10-year bond yields fell six basis points, or 0.06 percentage point, to 6.96 percent at 4:10 p.m. London time, after declining to 6.76 percent, the least since May 2010. The yield has dropped 66 basis points this week. The 2 percent bond due in February 2024 rose 0.36, or 3.60 euros per 1,000-euro ($1,381) face amount, to 73.815.
The rate climbed to a record 44.2 percent in March 2012.
Average Yields
The average yield to maturity on euro-area government bonds fell to a record-low 1.5969 percent yesterday, according to Bank of America Merrill Lynch indexes. The rate peaked at 6.017 percent in 2011, the data show.
Irish 10-year yields were about nine basis points from a record low and similar-maturity Portuguese bonds pared a weekly gain. Both Ireland and Portugal were recipients of international aid during Europe's financial turmoil.
Europe's sovereign debt crisis broke out in 2009 after Greece's newly elected socialist government said the budget deficit was twice as big as the previous administration had disclosed. The selloff in euro peripheral bonds from Ireland to Italy accelerated, pushing up borrowing costs and threatening to break the monetary union.
Lack of confidence in the securities of Europe's most indebted nations prior to European Central Bank President Mario Draghi's 2012 pledge to do what it takes to preserve the euro pushed the extra yield that investors get for holding Italian 10-year bonds instead of similar-maturity German bonds to as much as 5.75 percentage points in November 2011. That yield difference, or spread, was 1.85 percentage points today.
Higher Yields
"When investors look at the euro zone, they are no longer worried," said Elwin De Groot, a markets economist at Rabobank in Utrecht, the Netherlands. Higher yields "can be found in the periphery more so than in the core countries" such as Germany, he said.
Germany's 10-year bund yield climbed today as euro-area inflation exceeded analyst estimates in February. The rate rose seven basis points to 1.63 percent, while the yield on similar-maturity Italian bonds rose two basis points to 3.48 percent.
Ireland's 10-year yield rose two basis points to 3.11 percent today, down eight basis points this week. The rate fell to 3.02 percent on Sept. 22, 2005, the least since the euro's 1999 debut. Spain's 10-year yield added two basis points to 3.51 percent.
Portugal's 10-year bond yield increased four basis points to 4.85 percent, down eight basis points since Feb. 21. The rate fell to 4.78 percent yesterday, the least since June 2010.
Crisis Fading
Greek assets are winning investors back as fixed-income and currency markets show the crisis that gripped the euro area from 2009 is fading. With Draghi sticking by his pledge, investors are returning to Greek bonds, even after the nation's financial trauma caused private bondholders to write off more than 100 billion euros in 2012.
Greece's ASE Index of stocks gained 1.3 percent today, pushing its advance for 2014 to 13 percent, beating a 2.8 percent increase by the Stoxx Europe 600 Index since Dec. 31.
The country has received two international bailouts, and its ratio of debt to gross domestic product will be about 177 percent this year, according to European Commission forecasts. It swapped existing securities for new bonds maturing between 2023 and 2042 as part of the world's biggest sovereign-debt restructuring in 2012.
Greek bonds advanced today even as a meeting with the country's creditors this week ended without an agreement on how much extra capital the nation's lenders need.
The euro climbed as much as 0.8 percent $1.3824, the highest level since Dec. 27.
Greek bonds have earned 17 percent this year, the best performer among 15 euro-area debt markets tracked by Bloomberg World Bond Indexes. Those of Portugal and Ireland returned 8.6 percent and 3.5 percent, while Germany's gained 2.6 percent.
Before it's here, it's on the Bloomberg Terminal.
LEARN MORE