Why Aren't Christie, Zuckerberg, and Booker Defending Newark's School Chief?
By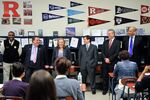 Remember when Facebook founder Mark Zuckerberg joined forces in 2011 with New Jersey's Republican Governor Chris Christie and Newark's Democratic Mayor Cory Booker to revive the city's troubled public schools?
They ended up selecting Cami Anderson as the city's superintendent of schools, and two and half year later she has had some successes. She closed nearly empty schools in a city that has lost 37 percent of its population since 1950. Last year she negotiated a landmark contract with the teachers unions enabling the district to award the best instructors with merit pay. Fittingly, Christie reappointed Anderson last year to oversee the district, which has been under state control since 1995 because of its history of corruption and poor educational results.
Now Anderson is being attacked on all sides in Newark as she tries to take her reforms to the next level. She needs to lay off more than 1,000 teachers at the financially strapped district, but she wants to chose those who get pink slips based on their performance, not just their years of service (the way such decisions are made in American public schools). She wants to close more public schools and expand the charter-school sector, which already serves 20 percent of Newark's children.
Predictably, the city's teachers union is fighting her plan. Meetings of the city's largely powerless advisory school board have turned into raucous anti-Anderson rallies, to the point that Anderson said this week she would no longer attend.
Meanwhile, Anderson has become a polarizing factor in this year's mayoral race. One of the candidates, Ras Baraka, a Newark public school principal, frequently attacks her. His opponent, Shavar Jeffries, a self-described education reformer, criticizes her, too.
Where are Anderson's main supporters? Zuckerberg has been silent. Christie has apparently been too busy with the Bridgegate fallout to speak up. Even Booker, now a U.S. senator, has been uncharacteristically quiet.
There are reasons why it might be a good idea of them to keep their heads down: They might make things worse. Even before the bridge scandal, Christie was highly unpopular in Newark, which is a Democratic stronghold. If Zuckerberg were to speak up, it might fuel conspiracy theories that billionaire outsiders are scheming to take over the city's schools. (Yes, people actually say that kind of thing in Newark.)
Booker's absence from the debate is more puzzling. He was elected overwhelmingly last year to serve the remainder of the late Frank Lautenberg's senate term. Booker is in no danger of losing his seat when he runs for reelection in November. Surely, he could spend a bit of his political capital in defense of Anderson.
The truth is that these guys need to step up because, with the exception of the Newark Star-Ledger, nobody else is publicly defending Anderson. Their silence emboldens Anderson's foes in their efforts to thwart her reforms. As Anderson recently pointed out, her initiatives are working: Newark's graduation rate has risen 10 percent.
Do any of Anderson's friends—or her enemies, for that matter—really want to see such progress reversed?
Before it's here, it's on the Bloomberg Terminal.
LEARN MORE