Volvo Wants Your Parked Car to Accept Deliveries
by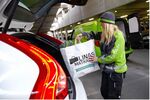 Missed package deliveries are the bane of online shopping. Volvo believes the solution is sitting right outside in your driveway or office parking lot.
The carmaker wants to allow retailers to drop off merchandise right inside your parked car. "Many people work or lead hectic lifestyles," says Klas Bendrik, chief information officer at Volvo Car Group. "Deliveries to the car would save time and money." Not to mention unnecessary stress and disappointment.
Volvo recently tested a service called Roam Delivery that would provide delivery companies with the location of your Volvo and a one-time digital key to open the car and leave packages inside. According to Bendrik, the service may become commercially available within the next two years, at least in Sweden.

Shoppers would receive a message before their packages are shipped asking whether they will accept car delivery. If they say yes, Volvo sends a digital key to the delivery company. The key shows the location of the car on a map and provides GPS coordinates, as well as information like the car's color, make, and license plate number. Once on location, the delivery person presses a button on a smartphone or tablet and Volvo unlocks the car via its On Call technology. Afterward the car relocks and sends the owner confirmation that the delivery is complete.
Volvo's pilot study, which took place in Sweden, was performed in collaboration with an online grocery retailer and a third-party delivery service, but Bendrik says the auto company is already in talks with major players in several countries. "Big delivery companies of course need to be involved to make these types of delivery services available on a larger scale," he says. In some regions, "transportation companies are eager," he adds, while others have preferred to wait for the concept to "mature a bit more."
Volvo also needs to hammer out details regarding safety and insurance. The service may not be workable in cities such as, say, New York, where leaving anything in your car could lead to a smashed window. In general, Bendrik notes that the service is better for low-value items such as food or even dry cleaning. "Safety has always been a big concern at Volvo," he says.
Before it's here, it's on the Bloomberg Terminal.
LEARN MORE