Renzi Considers Stricter Conditions on City of Rome in Bailout
Lorenzo Totaro and Andrew Frye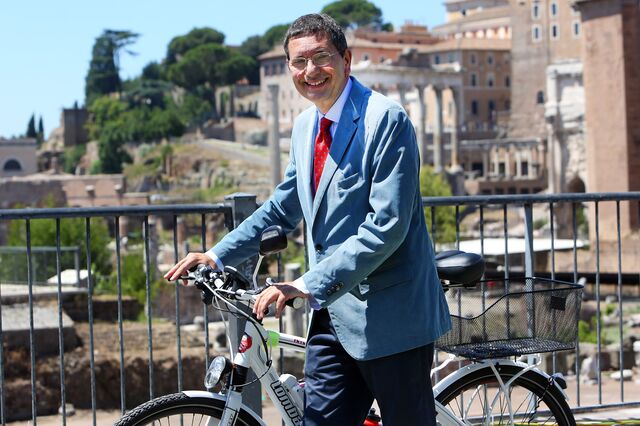 Italian Prime Minister Matteo Renzi is planning to demand stricter conditions on the city of Rome in a revised rescue for the cash-strapped municipality, the economic-policy chief of the premier's party said.
"The government will in fact do something in the next couple of days," said Filippo Taddei, who was appointed by Renzi in December as economic spokesman of the Democratic Party. "Support must come with responsibility. That's why we have to be very careful about the conditions we agree on."
Renzi, in his first week as premier, is stepping in after a bailout package put together in December by ex-Premier Enrico Letta was met with resistance in parliament. Opposition parties threatened a filibuster to deny approval to Letta's plan because they said it wouldn't force the city to address the causes of its fiscal problems.
Renzi's staff is meeting with Treasury representatives in Rome today to discuss the options, according to a central government official who asked not to be named as no decision has been made.
A government spokesman declined to comment.
Italian cities are facing financial shortfalls after two years of recession. Rome, the capital city, won't have enough money in March to pay its 25,000 employees, fill its buses with gas and collect garbage, Mayor Ignazio Marino was cited by newswire Ansa saying today. The value of Letta's bailout was about 850 million euros ($1.2 billion), according to Northern League lawmaker Stefano Borghesi, who opposed the measures.
Rome's Bonds
Rome's 1.4 billion euros of 5.345 percent bonds due January 2048 have gained 4.24 cents on the euro to 94.37 since the end of 2013, according to Bloomberg generic prices. The security yields about 5.7 percent, down from 6.04 percent at the end of December.
Government bonds in Italy rallied in the first two months of the year on signs the crisis that pushed the nation's borrowing costs to euro-era records had abated. Still, bailing out cities might weigh on state coffers burdened with the euro region's second-biggest debt. Naples got an aid package last year that is now under dispute after the state auditor rejected the city's plan to cut its debt.
"We want to reward the virtuous so we have to be very careful with city halls that aren't that careful with their finances," said Taddei.
Before it's here, it's on the Bloomberg Terminal.
LEARN MORE