Portugal Buys Back 1.32 Billion Euros of Debt to Ease Repayments
Joao Lima and Anabela Reis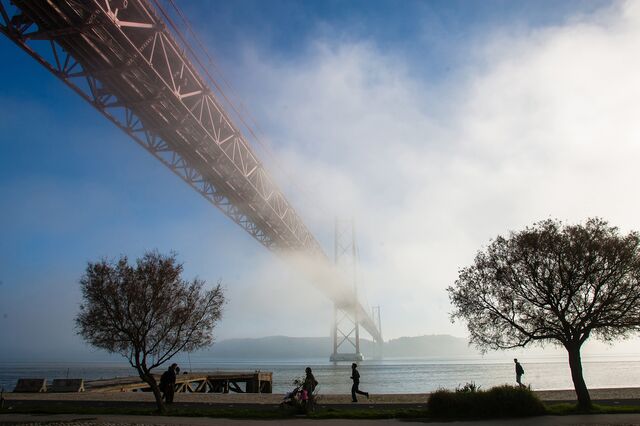 Portugal bought back 1.32 billion euros ($1.8 billion) of bonds due this year and next to smooth out debt repayments as the nation approaches the end of its international bailout program.
The country's debt agency, known as IGCP, bought back 1.03 billion euros of bonds due in October 2015 and 293 million euros of securities maturing in October 2014 at reverse auctions today. Two-year notes rallied in the secondary market, pushing yields to the lowest since April 2010.
With the end of its 78 billion-euro rescue program from the European Union and International Monetary Fund approaching on May 17, Portugal is seeking ways to ensure it can regain full access to debt markets. While it has raised 6.25 billion euros selling bonds through banks this year, the nation's debt and growth outlook is still a concern, Moody's Investors Service senior analyst Kathrin Muehlbronner said yesterday.
"Debt ratios in all peripheral countries have gone up dramatically in a very short period of time so governments have very limited room of maneuver," Muehlbronner told reporters in Lisbon. "We do see a stabilization of that ratio in Portugal this year but clearly that assumption rests on positive growth and continued fiscal consolidation."
The two-year note yield dropped 12 basis points, or 0.12 percentage point, to 1.79 percent at 11:24 a.m. London time.
Portugal's bonds have returned 8.1 percent this year, according to Bloomberg World Bond Indexes, in a rally across Europe's highest-yielding sovereign markets on signs the region is healing from its four-year debt crisis. Italy sold 10-year securities today at the lowest yield since September 2005 and Greek yields fell to the lowest since 2010.
Bond Yields
Portugal's 10-year yield fell six basis points to 4.79 percent, also the lowest since 2010, after having surged to more than 18 percent in January 2012 as the European debt crisis triggered a selloff. The nation pays about 3 percent on its bailout loans and is ranked below investment grade by Moody's, Fitch Ratings and Standard & Poor's.
Following the buyback today, the security due in 2014 has 5.58 billion euros outstanding, while the bond maturing in 2015 has 8.22 billion euros outstanding, according to IGCP.
The debt agency last had a bond buyback on March 9, 2011. The country also held a 6.64 billion-euro debt exchange on Dec. 3 to push back repayments on securities maturing in 2014 and 2015 to 2017 and 2018. The IGCP said in a presentation this month that Portugal ended 2013 with what it calls a treasury cash position of 15.3 billion euros.
Ratings Trajectory
Portugal plans gross bond issuance of between 11 billion euros and 13 billion euros this year. The country has already started to obtain funding for 2015, the IGCP said on Feb. 11 after completing a sale of 3 billion euros of 10-year debt. The European Commission said in a report released on Feb. 20 that Portugal's debt ratio will decline from a peak of 129.4 percent of gross domestic product in 2013.
Secretary of State for Treasury Isabel Castelo Branco said on Jan. 10 she "estimates" it will be possible for the country to sell bonds through auctions before its bailout program ends in the middle of May. The last bond auction was held on April 1, 2011, five days before Portugal requested financial aid.
Ireland in December became the first nation to exit a rescue program since the euro area's debt crisis began in 2009. That country entered its 67.5 billion-euro bailout in November 2010, six months before Portugal got its package.
Portugal's rating trajectory is not necessarily going to follow that of Ireland, which was raised to investment grade by Moody's in January, according to Muehlbronner.
"We are more concerned about the growth outlook in Portugal and its ability to achieve higher sustainable growth," Muehlbronner said. The difference between the interest Portugal pays on its 10-year bonds and the country's growth rate is a much bigger gap that it was in Ireland, she said.
Before it's here, it's on the Bloomberg Terminal.
LEARN MORE