Macau's Casinos Try to Lure High Rollers Outside the Junket System
Casinos were fine paying middlemen to lure VIPs. Not anymore
By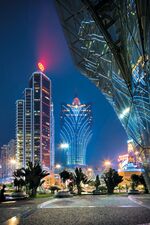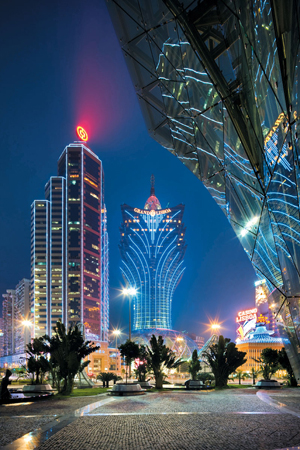 In the 1990s, Macau's gambling riches sparked bloody gunfights between triad gangsters vying for control of private gaming rooms for China's wealthy. Today, there's a new conflict brewing, only this time it's being waged with private jets, limousines, and million-dollar loans. This latest battle pits casinos against their longtime allies, so-called junket operators that for years have recruited rich gamblers in China, whisked them to Macau, put them up in luxury hotels, and extended interest-free loans to circumvent limits on cash they can take out of the mainland.
In the early years after China allowed foreign gaming companies into Macau in 2002, the casinos and junket companies forged a symbiotic—and incredibly lucrative—relationship. Companies such as Sheldon Adelson's Sands China needed a way to quickly attract high rollers, while junket operators led by Suncity Group and Jimei Group had decades of experience identifying and coddling wealthy Chinese willing to wager millions of dollars on a single night. Working together they helped propel Macau's gambling revenue to $45 billion in 2013—almost seven times that of the Las Vegas Strip.
That prosperity came at a heavy cost: Casinos paid $13 billion in commissions last year to junket operators, also known as VIP gaming promoters, to woo high rollers to Macau. That's why some casino operators are trying to cut out the middleman. Sands China, a unit of Las Vegas Sands, puts its fleet of private jets and limousines at high rollers' disposal, night and day, and comps their stays in suites that run to 8,000 square feet and come with on-call concierges, according to company reports. And several casinos are setting up their own ultra-high-stakes gambling parlors in their Macau facilities, a business that traditionally has been dominated by the junket operators who lease space within casinos.
A casino can make 10 percent to 15 percent more profit off big-time Chinese players if it hosts them itself, instead of paying junket companies to do the job in the exclusive VIP rooms it leases to them, according to Karen Tang, an analyst at Deutsche Bank in Hong Kong. Others put the potential at as much as 50 percent more.
Either way, casinos going it alone could be a revolution for the world's richest gambling hub. "Direct VIPs give us considerably higher profit margins," says MGM China Holdings Chief Executive Officer Grant Bowie.
VIPs account for about two-thirds of Macau's casino revenue. The majority are mainland Chinese who bet on credit because of the country's currency controls. The laws restrict to 20,000 yuan ($3,300) the amount a citizen may take across the border and a maximum of 10,000 yuan from a cash machine in a day. That's not enough for a VIP, who by the industry's definition bets at least $1 million during every visit to the territory, the only place in China where casinos are legal. So most big spenders from the mainland play with chips loaned to them, at no interest. They flock to VIP enclaves such as Sky 33 in Galaxy Entertainment's casino, where anybody who doesn't wager at least 5 million yuan each time he enters the posh gaming parlor isn't welcome, or Sky 32, which has a waterfall—and a 10 million yuan minimum. There's gourmet food, bathrooms, and even showers nearby so gamblers never have to stray far from the high-stakes tables.
The junket system made sense when Macau opened up its gaming market, granting permits to five operators—Sands China, MGM China, Galaxy Entertainment, Wynn Macau, and Melco Crown Entertainment—breaking a 40-year monopoly held by Stanley Ho's SJM Holdings. The newcomers, barred from marketing in China and with no legal route to collect debts, had to rely on promoters with agents who could lure VIPS and make sure they paid their debts. Now after a decade of operations, the casino companies are familiar with many of China's well-heeled residents, including those who've spent time on their gambling floors.
"Casinos have a much more in-depth database to tap," says Richard Huang, a Hong Kong-based analyst at CLSA. They have more opportunities to collect gambling debts, too. "With most of the rich Chinese having offshore bank accounts or properties, that gives casinos increased comfort in extending them credit."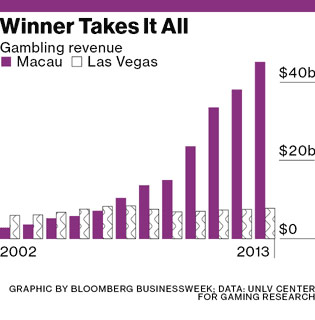 MGM China wants to develop its own customers to help manage risks, says CEO Bowie. "The junket model is a very successful model in terms of efficiency, but we need to diversify," he says. "No organization should limit themselves to one geographic market or one business strength. It's too high-risk."
A junket operator typically draws a commission for each high-stakes bettor it delivers. That payment is equivalent to 1.25 percent of the gambler's rolling chip turnover, or the aggregate amount of bets made, says Kenny Lau, a Credit Suisse Group analyst in Hong Kong. Commissions total about 44 percent of gross revenue from high rollers, according to the brokerage. The $13 billion casinos paid last year to junket operators equaled 29 percent of the casinos' total revenue, according to data compiled by Bloomberg. After government taxes of 39 percent, casinos can be left with "rather thin" profits, says D.S. Kim, an analyst at BNP Paribas Securities Asia. The numbers can be attractive nonetheless: Sands China posted an 80 percent gain in net income, to $2.2 billion, on revenue of $8.9 billion last year.
Not every gaming company is challenging the status quo. SJM, Asia's largest casino company by revenue, relies entirely on junkets to bring in its VIPs and has no plan to change that. "SJM is comfortable with our junket relationships and with the junket system, which operates legally in Macau," CEO Ambrose So said in an e-mail.
Still, some operators say they're already feeling pressure. "We are being squeezed," says Yu Yio Hung, who operates a VIP room at Macau's Altira casino. Suncity and Jimei, as well as Sands China, Galaxy Entertainment Group, and Wynn Macau, declined to comment for this article.
A few years ago, many of the VIP gaming rooms operated in "a gray financial market," according to a report from the U.S.-China Economic and Security Review Commission, a group created by Congress to monitor Sino-U.S. security and trade issues. They were run only by junket operators and outside the direct oversight of Macau's gaming regulator, the report said.
To reduce their dependence on the junket operators, Macau's 35 casinos have been adding glitzy shows and shopping malls to draw middle-class families. The former Portuguese colony, handed over to China in 1999, boasts flashy hotel towers and shopping malls stocked with brands including Rolex, Christian Dior, and Prada. It's also attracting tourists who aren't hard-core gamblers by adding spas, concerts, theaters, fine dining, and family-friendly entertainment. That's already having an effect: High rollers' share of Macau gambling revenue peaked at 73 percent in 2011, and last year it totaled about 66 percent. "The influence of junkets is decreasing as the mass and the premium mass segments become more substantial," says Lawrence Ho, co-chairman of Melco Crown and Stanley's son.
Some junket companies are diversifying in response. Suncity has set up VIP gambling clubs in South Korea and the Philippines and branched out into movie production, music, and immigration consulting. But the company continues to serve customers in Macau casinos, including Galaxy Entertainment and Sands China.
These middlemen are unlikely to ever be pushed out entirely. That's because of their knowledge of wealthy gamblers in China and their willingness to take on credit risks that casinos won't. The more than 200 licensed junket operators in Macau have extensive networks in the mainland of people who know the tycoons in a city or province, and they have at least a rough idea of individuals' net worth.
Junket operators are more liberal with credit extensions than casino operators, says Hoffman Ma, deputy chairman of Success Universe Group, operator of a casino resort in Macau. U.S.-based casinos typically require more vigorous credit checks, something that VIP players dislike, according to BNP's Kim. "There are limits as to how much casino operators can do in recruiting direct VIPs," Kim says. "VIPs are loyal to junkets—but not the casino operators."
Before it's here, it's on the Bloomberg Terminal.
LEARN MORE