Incomplete Passes: College-Athlete Academic Scandals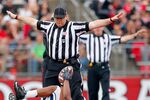 Academic irregularities related to athlete eligibility have haunted several U.S. colleges.
Auburn (2006)
Helped by academic advisers, football players padded their grade-point averages in "directed reading" classes.
 
Florida (2008)
Cam Newton, now quarterback of the NFL's Carolina Panthers, left Florida after facing potential expulsion for cheating, Fox Sports reported.
 
Florida State (2009)
Academic advisers participated in taking tests and in writing papers for basketball and football players.
 
Fresno State (2003)
The men's basketball statistician and an academic adviser were caught in a paper-writing-for-athletes scheme.
 
Georgia (2003)
The university withdrew from postseason play after basketball players received inflated grades in a coaching class.
 
Memphis (2008)
The NCAA stripped the basketball team of its run to the finals after Derrick Rose's SAT scores were ruled invalid.
 
Michigan (2008)
The Ann Arbor News reported that from 2004 to 2007, 251 athletes took independent study classes with the same professor and received suspiciously high grades.
 
Minnesota (1999)
The basketball team had tournament victories erased after hundreds of assignments were completed for players.
 
Stanford (2011)
Academic advisers discontinued a list of classes recommended for years because they were easy and/or convenient.
 
Tennessee (2000)
ESPN profiled an English professor whose objections led the university to acknowledge that, on average, athletes received twice as many grade changes as other students.
 
USC (2001)
The NCAA issued sanctions against the football and women's swimming teams after tutors were found to have written papers for athletes.
Before it's here, it's on the Bloomberg Terminal.
LEARN MORE