The FDA Opens Its Vast Files on Drug Side Effects to the Public
Doctors and patients will be able to search for side effects
By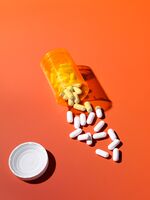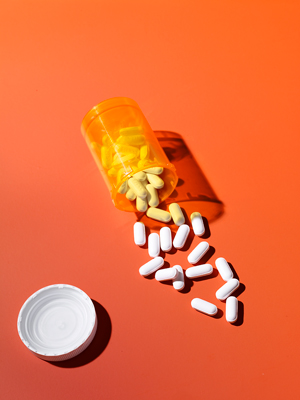 Thousands of times each day, the U.S. Food and Drug Administration receives reports about unwanted side effects of the prescription and over-the-counter medications it oversees. They stream in from patients and doctors—and from drugmakers, which are required to relay accounts of problems. This data, cataloging reactions as mild as rashes and headaches and as serious as internal bleeding and death, help the agency monitor drug safety. With millions of records created since the system began in 1998, it's the world's most extensive record of how drugs interact with the human body.
It's also almost impossible for anyone outside the agency to use. The FDA publishes quarterly bulk files—the most recent one covers to the end of 2012—but they're a blizzard of cryptic information that can only be deciphered with expertise and complicated software. Patients or doctors who want to see a report on a specific drug have to file a Freedom of Information Act request with the government. "If you're someone who's trying to make an informed decision about which drug should I take … it's not well-formulated that way," says Dr. Taha Kass-Hout, the FDA's chief health informatics officer.
In January the agency quietly unveiled plans to make these records, known as adverse event reports, more widely available through a project called openFDA. Instead of simply publishing unwieldy quarterly files, openFDA will let software makers tap directly into the data to build user-friendly and easily searchable programs for doctors and consumers. The agency is also opening up records of product recalls and drug labels. More transparency could make it easier to detect problems in cases like Vioxx, the painkiller that Merck pulled from the market in 2004 because of heart risks.
A handful of entrepreneurs have struggled to translate the FDA's current stockpile of drug information. AdverseEvents, a startup in Santa Rosa, Calif., sells reports based on the agency's bulk data releases to insurers and hospitals trying to figure out which drugs have lower rates of complications. President Brian Overstreet says the files are full of duplicate records and misspelled drug names. Patients and physicians trying to use the FDA's database on their own are in the wilderness, he says. "You don't know whether Lipitor or Crestor is safer for you," Overstreet says, "and neither does your doctor, frankly."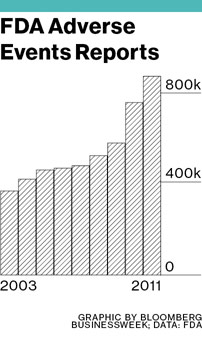 Two medical researchers in Virginia, Alex Mayers and Dan Murphy, used the FDA's archives to create DrugCite, a website that lets users search for side effects by medication. Since each file from the FDA covers three months, creating a complete record of problems associated with a particular drug over a period of years means deciphering and piecing together dozens of monster files. "Right now the data's kind of locked up," Mayers says. Launched in 2011, the site gets thousands of hits a day. "It's obvious that this data is wanted just by the response we've gotten," says Murphy. Once the information is easier to use, the FDA's Kass-Hout predicts that many other Web and software developers will step in to meet the public's demand for drug information. He envisions mobile apps that let consumers compare over-the-counter drugs while they shop in the pharmacy, and software to immediately alert pharmacists when a company issues a recall.
The pharmaceutical industry is cautiously supportive. More informed doctors and patients "have to be a good thing," says Jeff Francer, senior counsel at the Pharmaceutical Research and Manufacturers of America. But he says reports about side effects need context: "We wouldn't want patients to be scared by just receiving adverse event information in absence of a more full discussion of both the benefits and the risks of a medicine."
Kass-Hout, a physician, is looking for ways to improve the reliability of information the FDA collects. His background is in monitoring infectious diseases. Previously at the Centers for Disease Control and Prevention, he tracked emergency room visits related to the H1N1 flu outbreak in 2009; finding problems with medications involves similar public health detective work. The FDA is also considering skimming tweets and Facebook posts that might signal problems with drugs, though he calls the idea exploratory. "You've got to look at this as a mosaic," he says. "All these pieces are telling you something, and it's just a matter of how you can stitch it together."
BOTTOM LINE -
The bottom line: The FDA is encouraging entrepreneurs to use its data to create apps and websites for doctors and patients.
Before it's here, it's on the Bloomberg Terminal.
LEARN MORE