Draghi Says ECB Ready to Act on Downside Inflation Risks
Alessandro Speciale and Jana Randow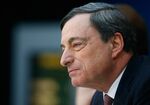 European Central Bank President Mario Draghi said policy makers are committed to defend the euro area against deflation.
"We will remain alert as to whether any indication on further downside risks to price stability emerge and we stand ready to act," Draghi said in a speech in Frankfurt late yesterday. Low inflation can be primarily attributed to energy-price developments, internal rebalancing efforts by some euro-area countries and weakness in demand, he said.
Draghi's comments, which echo his recent remarks, came hours before consumer-price data that may aid policy makers as they determine whether to cut interest rates next week. Economists predict inflation in the 18-nation euro region slowed to 0.7 percent in February from 0.8 percent the previous month, the level that helped trigger a surprise rate cut in November.
"Inflation remaining low for a prolonged period of time is a risk in itself," Draghi said yesterday. "It implies that there is only a small safety margin away from zero. And it makes structural adjustment efforts more difficult."
Policy makers will hold their next meeting on March 6, a month after Draghi signaled more stimulus may be needed. The European Union's statistics office is scheduled to publish consumer-price data at 11 a.m. in Luxembourg today.
Draghi said most stressed countries "have made remarkable progress in gaining competitiveness."
The euro-area economy grew 0.3 percent in the fourth quarter, more than economists predicted, bolstered by stronger-than-forecast expansions in Germany, France and the Netherlands and Italy's return to growth.
"We see the euro area's economic recovery gradually taking hold, albeit at a slow and uneven pace," Draghi said.
Rate Cut
Economists are divided over whether the Frankfurt-based ECB will increase stimulus to counter the risk of deflation when they meet next week. ECB Governing Council member Bostjan Jazbec said yesterday that it's unclear if cutting interest rates would be the right move to tackle weak credit in the euro area.
"Whether any cut in the interest rate would anyhow approach or tackle the problem in the right way, this is still a question for discussion," Jazbec told reporters in Frankfurt yesterday. "It's a question whether it would be enough only to cut interest rates."
Jazbec said the ECB, like other central banks, is looking for ways to ease the flow of money to the economy as the 18-nation euro area exits its longest-ever recession. The central bank is discussing both a cut in interest rates and "other measures" to funnel loans to companies and households, he said.
"It's obvious that there is a bit of decoupling from business cycles and financial cycles, and how you approach it is a million-dollar question," Jazbec said.
Banking Supervision
Draghi also said yesterday that the ECB is making "good progress" in establishing the Single Supervision Mechanism that will oversee the currency bloc's most significant banks from November 2014. While the monetary policy and banking supervision functions of the ECB will be separate, price stability will remain "the ECB's overall primary objective," he said.
The ECB president said he's aware that a prolonged period of low rates risks creating "local bubbles," while financial instability can pose a threat to a central bank's ability to ensure price stability.
"Macro-prudential policy can be used to address financial stability concerns and facilitate our monetary policy conduct," he said.
Before it's here, it's on the Bloomberg Terminal.
LEARN MORE