Will Death on the Midnight Rider Set Be a Reckoning for Filmmakers?
By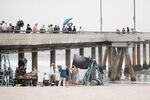 So far the news has lived primarily in the trade press, but the film business was stricken by word of a death on a movie set last week.
A 27-year-old woman named Sarah Jones was hit by a train on Feb. 20 during the shooting of a Gregg Allman biopic, Midnight Rider, that stars William Hurt as the rock musician. Jones was working outside of Savannah, Ga., as a camera assistant on the production, which had undertaken what sounds like an audacious stunt. While filming a dream sequence, a bed was hoisted onto a railroad trestle. When a train unexpectedly arrived, the crew members working around the camera and the bed had to run for their lives to get out of the way. Jones didn't make it.
The accident was a horrible tragedy. It's also prompted an outpouring of social media activity about the often unsafe conditions on film and television sets, where directors and producers, and sometimes megalomaniacal stars, are emboldened to do whatever they want to realize their visions, even if it means putting people at risk.
In this case, the film's producers, Unclaimed Freight Productions, and its distributor, Open Road Films, said they had permission to film on the train track, which is owned by CSX, a national railroad and shipping company. According to Variety, the filmmakers had been given a schedule that suggested only two trains were passing through that day, but a third arrived at an unexpected time.
The crew members who were on the track when the whistle sounded scrambled to pull the bed off and get out of the way, but they didn't have enough time. The train hit the bed, shattering it and sending debris flying. A piece hit Jones, who fell and was struck by the train. A handful of other crew members were injured.
Making movies often involves complex stunts and the use of potentially dangerous equipment operated by people who are typically sleep-deprived from 16-hour work days. Film productions are run like the military. If a director arrives and announces that he or she wants to do something that sounds crazy, like dangle the camera from a high rooftop during a windstorm, people are unlikely to object. One film worker and an acquaintance of Jones called for a national safety campaign to be named in her honor.
"Sarah and the three injured crew members were not victims of an 'accident' but of criminal negligence," wrote Oscar-winning cinematographer Haskell Wexler in an open letter about the incident posted last night. "Something that would not have happened if proper safety rules were in place," the letter said. Wexler made a documentary in 2006 about unsafe industry practices called Who Needs Sleep? after an assistant cameraman died in a car crash when he fell asleep at the wheel on his way home from a 19-hour workday.
An accident report from the Wayne County (Ga.) sheriff's office said the film's producers may not have had permission to film on the tracks after all. "According to the CSX employee," Sergeant Ben Robertson wrote, "the production company had previously been denied permission to film on the trestle, and there was electronic correspondence to verify that fact." The local sheriff said his office was treating the death as a homicide investigation.
A local news report on the incident can be found here:

Before it's here, it's on the Bloomberg Terminal.
LEARN MORE