Carnage on the Natural Gas Market
by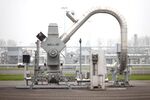 The natural gas market just convulsed. After years of flat, relatively low prices ranging between $2 and $4 per million British thermal units, the past two weeks have been the most volatile period ever. Yes, ever. On Feb. 10, natural gas was about $4.50 per million BTUs. Ten days later the price was up 30 percent, to more than than $6. Today it's back down to $4.50.
There was a similar move back in the winter of 2003, but that played out over two months. "This has happened over two weeks," says Teri Viswanath, a natural gas analyst at BNP. "It is without question the most volatile pricing environment we have ever witnessed."
A graph of a year's worth of natural gas prices looks like a rolling landscape with a giant, needle-shaped skyscraper stuck at the far right end.
So what the heck happened? The first part can be explained in two words: polar vortex. With record low temperatures and an epic winter still blasting much of the country, demand for natural gas has been much higher than in previous winters. So prices jumped as traders got bullish and speculators poured money into natural gas futures contracts, betting on rising prices.
According to Timothy Evans, an energy analyst at Citigroup Global Markets who keeps a composite of futures contracts across a handful of exchanges, financial speculators in November owned about 140,000 natural gas futures contracts. Each contract is for 10,000 million BTUs, which means that in November, when natural gas was trading at around $3.55, according to a very rough back of the envelope calculation, speculators were sitting on a net long position of about $4.9 billion.
Fast forward to Feb. 19, and speculators were holding 564,640 futures contracts, a record long position, says Evans. By that time, natural gas was trading at around $6, giving speculators something along the lines of $30 billion in natural gas contracts. Again, that's a record.
And then, the selloff began. Through Wednesday, prices were down 22 percent for the week, marking the biggest three-day loss since December 2005. Now speculators selling natural gas contracts at the end of February isn't exactly strange. It's actually what they always do. The trade is known as the widow-maker. As futures contracts for March expire, as they did on Wednesday, traders roll their positions forward into April and May contracts. Since the end of winter is approaching, the spring months tend to be what are called shoulder months, when temperatures rise and demand for natural gas falls. Along with prices.
Part of that is profit-taking. Prices had jumped $2 in 10 days, so traders were ready to sell at the beginning of the week and call it a win. But the selloff shouldn't have been that severe. Something else is going on, and it's puzzling a lot of traders. "The selloff has been breathtaking," says John Kilduff,  "And it's not just the typical things that tends to happen this time of year."
One trader at JPMorgan, who spoke on condition that his name not be used because his bank is an active trader in the natural gas market, says there is a lot of confusion about what's behind the sudden price declines.
Viswanath thinks she has an idea of what's going on. Typically, as financial players sell gas futures contracts at the end of the winter, big consumers of the fuel, such as utilities and power companies, step in and buy in the physical market. That ends up smoothing out the price fluctuation. "There's usually a clean handoff that takes place this time of year, between the paper and the physical market," says Viswanath. "But that didn't happen. The physical consumers aren't buying, and I'm not sure why."
One reason could be that April is expected to be warm, so natural gas demand may be muted. That's probably the same reason that banks and hedge funds have been selling so heavily and not rolling into April at the current prices. Still, without that clean handoff, prices have moved much more dramatically, leaving many people with wrong-way bets.
The carnage is starting to show up. Barclays said on Tuesday that it was shutting down its U.S. power trading desk. With the U.S. using more natural gas to make electricity than it has in years, having a sour position in natural gas can easily translate into big losses for a bank's power trading operation. It's not just banks, either. Commodities trader Cargill reportedly lost $100 million trying to trade in mid-Atlantic power markets.
Two natural gas traders and one natural gas broker, all speaking on condition of anonymity, said rumors are flying around about energy hedge funds taking big losses over the past two weeks, with one saying the loses were big enough to lead to some of them closing down.
Before it's here, it's on the Bloomberg Terminal.
LEARN MORE