Best Buy Tops Quarterly Profit Estimates After Cutting Costs
Matt Townsend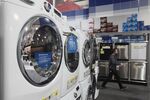 Best Buy Co., the world's largest electronics chain, posted fourth-quarter profit that topped analysts' estimates after cutting expenses and getting more of its sales from the Internet.
Profit was $293 million, or 83 cents a share, in the quarter ended Feb. 1, compared with a loss of $409 million, or $1.21, a year earlier, the Richfield, Minnesota-based company said today in a statement. Earnings from continuing operations were $1.24 a share. Analysts had projected $1.01 a share, the average of 24 estimates compiled by Bloomberg.
Chief Executive Officer Hubert Joly is working to cut $1 billion in annual costs, up from an earlier target of $725 million, by improving the company's supply chain and reducing the number of products that get returned or damaged. Still, sales will continue falling in the first half of this year, hurt by an industrywide slump in demand for consumer electronics, Best Buy said.
"They get credit for doing all they can on cutting costs," Brian Yarbrough, an analyst with Edward Jones & Co. in St. Louis, said in an interview. "But at some point they will run out of cost savings and will have to find a way to grow the business."
Best Buy declined 1 percent to $25.57 at the close in New York. The stock has slid 36 percent this year.
Turnaround Strategy
Best Buy's shares more than tripled in 2013 as the CEO cut costs and revived sales by dedicating more space to brands like Samsung Electronics Co. He also has instituted a price-matching policy to compete with Amazon.com Inc. while touting Best Buy's product assortment and knowledgeable staff.
Joly outlined the company's strategy over the next two years on a conference call with analysts, saying Best Buy would focus on additional cost cutting, adding more areas in stores dedicated to specific vendors, and improving marketing by making it more personalized.
Domestic online sales also jumped 26 percent last quarter, helping offset declines at brick-and-mortar stores.
Revenue generated by electronics in the U.S. fell about 3 percent during the fourth quarter, Best Buy said, citing researcher NPD Group. The data also showed that Best Buy gained market share, the company said, while declining to say how much.
Ultrasharp TVs
Products that could lift the electronics industry include ultra high-definition televisions, which have fallen in price, and the next iPhone from Apple Inc., Joly said in an interview.
"This has been a growing market," he said. "I'm bullish on the market as a whole."
Best Buy expects to eventually generate its own growth by improving the company's online unit and boosting market share in categories like printer ink, Joly said. It's also looking to get more purchases from existing customers by adding things like gift registries, he said.
While holiday discounts narrowed domestic profit margins to 20 percent from 22.3 percent last quarter, Joly said in January that Best Buy will continue the practice. Online sales now account for almost 13 percent of the domestic total, up from 10 percent, the company said on a conference call.
Total revenue, meanwhile, declined for a fourth straight quarter. Sales fell 3 percent to $14.5 billion in the period, missing the estimate of $14.7 billion.
Same-store sales, a key measure of a retailer's performance because new and closed stores are excluded, dropped 1.7 percent internationally and 1.2 percent in total. Analysts had projected a decrease of 0.8 percent, the average of 13 estimates.
As part of the belt-tightening efforts, the chain announced plans in January to eliminate 950 jobs from its stores in Canada. The cuts, which represent about 6 percent of the chain's 16,000 workers in the country, include both hourly and salaried workers.
Joly declined to comment on a report in the Star Tribune newspaper that the company is firing about 2,000 employees.
Before it's here, it's on the Bloomberg Terminal.
LEARN MORE