AMC Finds Killing TV Shows Is Expensive
by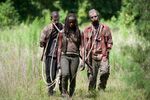 The Walking Dead is paying off handsomely for AMC Networks, but it has also been faced with the brutal—and expensive—task of killing off some lifeless programs.
The company's sales in the recent quarter surged 18.7 percent, to $435 million, as advertisers clamored to buy time during broadcasts of Breaking Bad and Walking Dead. Ad sales at AMC's core channels, including IFC and SundanceTV, increased 31 percent in the period.
It's hard to overstate how successful Walking Dead has been for AMC. It's the No. 1 show on television for adults aged 18 to 49. The midseason premier of Walking Dead, which aired earlier this month, drew 16 million viewers. That's more than the average Monday Night Football broadcast. AMC is particularly thrilled that the show Mad Men and its other hits have only become more popular over time, bucking the trend in television sequel seasons.
IFC also posted a 20 percent increase in viewers, thanks to Portlandia and a miniseries spoof called Spoils of Babylon, which featured Will Ferrell, Kristen Wiig, and Tim Robbins.
TV is a brutal, bittersweet business, which is evident a few lines down the AMC financials. The company had to write off $52 million for canceling two shows, Low Winter Sun and The Killing, both cop dramas. It was a financial blow in an otherwise stellar season.
The entertainment business essentially funds on a venture capital model; A company such as AMC invests in a lot of projects in the hope that a few pay off handsomely. Picking winners is important, but so, too, is simply doing a lot of deals—greenlighting a lot of shows.
AMC still managed to more than double profit in the recent quarter, but the scrapped shows dragged its results below Wall Street expectations and prompted analysts this morning to ask how much in write-off expenses can be expected in a normal year.
"It's hard for me to respond about what is normal," answered Chief Financial Officer Sean Sullivan. "It's an expensive business, and not everything is going to work. So I think this is a potential outcome, but we certainly don't plan for write-offs."
Translation: "No clue."
AMC, however, isn't shying away from new shows. It says its pipeline of programs is "more significant than it's ever been," including the upcoming Revolutionary War spy drama Turn and Halt and Catch Fire, a show chronicling the rise of the PC business in the 1980s. Both of those products were "pretty expensive," according to the network.
A common refrain is that AMC is the new HBO. While that may be true creatively, financially they are different stories. As a subscription business, HBO is far less dependent on the success of any one show. As long as viewers find enough other things to like on the channel, the revenue won't disappear. AMC's shows need to stand on their own.
What's the value of that dynamic? An operating profit margin of 34 percent for HBO. AMC's operating margin was 31 percent for the first nine months of last year. When the write-offs hit, it dropped to 19 percent.
Before it's here, it's on the Bloomberg Terminal.
LEARN MORE