Telecom Italia Said to Plan Move to Assuage Small Investors
Daniele Lepido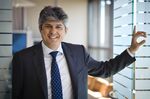 Telecom Italia SpA Chief Executive Officer Marco Patuano plans to propose changes that address concerns minority shareholders have too little influence, people with knowledge of the matter said.
As the board meets today, Patuano will ask for stricter requirements for directors classified as independent, said the people, who asked not to be identified because the deliberations are private. He will also propose cutting the number of board seats to as many as 11 from 15, they said.
Telecom Italia's largest shareholder, the Telco SpA investor group controlled by Telefonica SA, has the power to appoint a majority of the board members. Italy's market regulator has raised concerns that some of the members not appointed by Telco have ties to it, one of the people said.
Minority shareholders including Marco Fossati, whose Findim Group SA owns about 5 percent of Telecom Italia, have sought more sway over the Milan-based carrier.
The Consob market regulator has asked Telecom Italia to review the status of Mauro Sentinelli and Jean-Paul Fitoussi as independent directors, one of the people said. Sentinelli is a former Telecom Italia manager, and Fitoussi is on the advisory board of Intesa Sanpaolo SpA, which is a shareholder of Telco.
Lucia Calvosa, another independent director, also plans to submit a corporate-governance proposal at today's meeting, one of the people said. Her proposal would reduce the largest shareholder's appointment powers to two-thirds of the board from four-fifths. The four-fifths rule has been in place since 1997, when Telecom Italia was privatized by the government.
Brazil Conflict
Telecom Italia and Consob representatives declined to comment. Calvosa wasn't immediately available to comment.
The shares rose 0.2 percent to 85.2 euro cents at 9:16 a.m. in Milan. They have jumped 20 percent this year, giving Telecom Italia a market value of 15.4 billion euros ($21 billion).
While Telecom Italia has 15 board positions, only 11 of those are currently filled. Five of the directors are deemed independent. Telefonica CEO Cesar Alierta and another former executive at the Spanish carrier stepped down from Telecom Italia's board in December to avoid perceived conflicts of interest in Brazil, where the two carriers compete.
The company is considering whether its new chairman will be named by board members or by shareholders in the annual general meeting, one of the people said. Chairman Aldo Minucci has said he will he will only serve in the position until a new board is chosen in April.
Before it's here, it's on the Bloomberg Terminal.
LEARN MORE