The Sports Cars Insurance Companies Prefer You Didn't Drive
by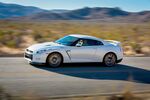 In insure.com's annual ranking of the most and least expensive cars to insure, the usual road-focused race cars were on the top. Nissan Motor's GT-R, commonly known as the Godzilla, landed the top spot, with a yearly insurance bill of about $3,200. It was followed closely by a bunch of two-door rivals. Not shocking: Just owning a car that can do zero to 60 in less than three seconds suggests that the company willing to insure you deserves a premium.
To come up with these numbers, insure.com, an independent research website, used a standard profile: a hypothetical 40-year-old man, single, with a clean record. Nissan's Godzilla may not be the best choice for this guy, so we got our hands on the data to find out which sports cars were the cheapest to insure (four-doors weren't considered; so-called muscle coupes were). Here's what we found:
1. Mazda MX-5 Miata Sport: $1,233 per year
2. Chevrolet Camaro LS: $1,363 per year
3. Ford Mustang: $1,412 per year
4. Mercedes-Benz SLK250: $1,623 per year
5. Audi TT 2.0T Quattro: $1,641 per year
Assuming the driver is the same, the quotes reflect such facts about the vehicle as how expensive it is to fix or replace and how often the average driver of each one files a claim. Amy Denise, editorial director at insure.com, says the sports cars that are cheapest to insure are generally the ones that attract the most conservative drivers. "A bunch of aggressive drivers are the reason even a good driver pays higher rates," she says. So the average Miata or Mustang pilot has a light foot compared with the guy in the Godzilla.
But when the cost of the car is taken into account, the picture changes considerably. The annual insurance premium on the MX-5 adds up to about 5 percent of the price on the windshield, which doesn't seem like much of a good-behavior discount. Here are the sports cars that offer the best insurance deals as a percentage of MSRP (manufacturer's suggested retail price):
1. Mercedes SLS AMG GT: 1.5 percent ($2,986 per year)
2. Audi R8 V10: 1.6 percent ($2,448 per year)
3. Dodge SRT Viper: 1.7 percent ($1,735 per year)
4. BMW M6: 2.7 percent ($3,065 per year)
5. Nissan GT-R: 2.7 percent ($3,169 per year)
What does all of this mean? The people driving around in Audi's mid-engine masterpiece or the gorgeous gull-wing Mercedes really don't want to mess them up—or maybe they're just really good drivers.
Before it's here, it's on the Bloomberg Terminal.
LEARN MORE