Keystone XL Conflicts of Interest? Report: Nothing to See Here
By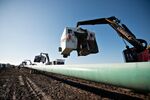 So "early 2014″ turned out to be less than 12 hours since our last post on the controversy surrounding the Keystone XL pipeline.
Moments ago, the Department of State's Office of the Inspector General released its review of whether State did a poor job of vetting Environmental Resources Management (ERM), the consultant State engaged to complete an environmental impact statement (EIS) for the project. Opponents of Keystone XL, expecting the review might delay the project's approval, had hoped the inspector general's office would get its report out first, and several members of Congress even wrote to State urging it to wait on releasing the EIS until the review was ready. That didn't happen, and the EIS went public on Jan. 31.
Well, they needn't have troubled.
The report (PDF), prepared by Norman Brown, assistant inspector general for audits, is a dud.
As far as Brown & Co. are concerned, the State Department's process for selecting ERM was fine, and none of the possible conflicts between ERM and TransCanada, the company that wants to build the pipeline, matter much. Sure, in the future, "the process for documenting the contractor selection process, including the conflict of interest review, can be improved." Further recommendations include "that the Department enhance its guidance to integrate a process for public disclosure of appropriate information" and similar bureaucratic jargon. But the takeaway is, whatever ties ERM may have to TransCanada, State's fine with it. The generally favorable EIS will go to Obama's desk without an asterisk.
Before it's here, it's on the Bloomberg Terminal.
LEARN MORE