Kaloti Jewellery Fixed Shortfalls in Conflict Gold Audit
Maria Kolesnikova and James Doran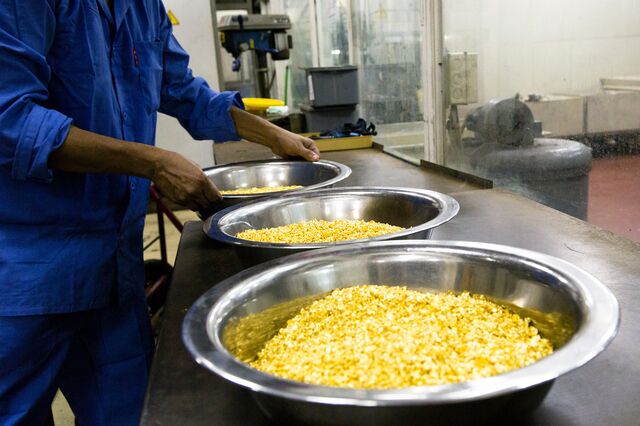 Kaloti Jewellery LLC, Dubai's biggest gold refinery, said it fixed shortcomings found by an outside auditor on whether it complies with rules aimed at stopping the use of metal from war-affected areas.
"While we accept that we had some shortcomings in our initial report, these were quickly rectified to the full satisfaction of our external auditors and the regulators," Kaloti said in an e-mailed statement yesterday. "Any suggestion that we have sourced gold from conflict zones is totally false."
An audit by Ernst & Young LLP found that Kaloti didn't report $5.2 billion in "potentially suspicious transactions" in 2012 and accepted gold plated in silver without proper paperwork, Global Witness, a human-rights advocacy group based in London, said in a report Feb. 25. It cited information from Amjad Rihan, the E&Y partner in charge of the project who has since left the company.
The Dubai Multi Commodities Centre, the local metals regulator, changed its audit guidelines after the E&Y report, Global Witness said. Rihan alleged that E&Y was aware "critical audit findings were sidelined" after the changes, didn't report the findings to relevant stakeholders and agreed to a new audit with Kaloti, Global Witness said.
Dubai Response
Ahmed bin Sulayem, 36, executive chairman of the Dubai commodities center, said the Global Witness information came from a "disgruntled former E&Y employee" who had every opportunity to raise concerns during the audit.
"If this man genuinely did not like what he saw during the audit, why did he go though with it and say nothing? Why did he not stand up then and say I have a problem with this, or I resign, or we should not be doing this?," bin Sulayem said in a phone interview in Dubai today.
The regulator, in a statement e-mailed today, said it "strongly rejects any suggestion that it has acted in any way improperly in relation to the Responsible Sourcing Guidance and review process for member refineries." The Dubai center's activities are "aligned with international standards of due diligence and responsible supply chain management when sourcing gold, and indeed this has been independently confirmed."
E&Y Dubai
E&Y reported instances of non-compliance to both Kaloti and DMCC, it said in a statement yesterday. "E&Y Dubai refutes entirely the suggestion that we did anything but highly professional work in relation to our compliance engagement with Kaloti," E&Y said.
Mineral-rich eastern Congo suffered almost two decades of conflict since the aftermath of Rwanda's 1994 genocide spread across the border. The U.S. financial-reform bill known as the Dodd-Frank Act contains a provision requiring American companies that buy minerals from Congo and neighboring countries to certify that purchases are "conflict free."
Dubai accounted for more than 20 percent of global trade in physical gold worth about $70 billion in 2012, Global Witness said. Kaloti's Sharja refinery can process 450 metric tons of gold, worth $19.3 billion, a year and is building one in Dubai with capacity for 1,400 tons of gold and 600 tons of silver to be completed in 2015.
The E&Y original audit found Kaloti to be in breach of Dubai commodity center and the London Bullion Market Association's zero tolerance guidance for knowingly accepting gold coated with silver "exported by suppliers from Morocco who had used falsified documentation," Global Witness said. E&Y ignored Rihan's request to notify appropriate stakeholders, including the LBMA, about non-compliance, it said.
Cash accounted for almost 45 percent of Kaloti's transactions worth more than $5.2 billion, including 1,065 deals without proper due diligence on suppliers, according to the Global Witness report. Those deals were equal to 2.4 tons of gold, it said. Kaloti also bought hand-carried bullion from high-risk suppliers in Sudan, according to the audit, Global Witness said.
Before it's here, it's on the Bloomberg Terminal.
LEARN MORE