pursuits
Flailing Abercrombie Turns to Outlets and International Stores
By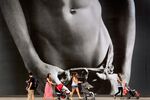 Abercrombie & Fitch is getting used to not being in the cool crowd. As young consumers turn to Urban Outfitters and a resurgent Gap, the teen T-shirt empire keeps sliding.
This morning, Abercrombie said sales in the recent quarter declined 12 percent, to $1.3 billion. Meanwhile, profit dropped 58 percent, to $66 million, as the company wrote down some big expenses for closing stores.
Embattled Chief Executive Michael Jeffries once again pegged the poor results to a "challenging retail environment," particularly among teenagers. "A significant decline in store traffic that began in July continued through the holiday season and as yet has shown no signs of abating," Jeffries said on a conference call this morning.
Abercrombie's plan to boost results would be familiar to any burned-out and broke socialite: Buy cheaper stuff and look for a cushy place to land abroad. For the first time, the company is making clothes specifically for its outlet stores, rather than just using the discount channels to offload old inventory. Abercrombie is testing the outlet-only apparel at a store in Seattle and in Kent, England.
Meanwhile, the company continues to expand abroad. It now has seven stores in China and just opened a location in Dubai. This year, while it closes up to 70 stores in the U.S., it has plans to cut the ribbon on another 16 international locations, including a flagship in Shanghai.
Its top priority, however, is still "improving fashion" in its womenswear, which is more threadbare than its mens business at the moment. That seems like a sound strategy, but it's also easier said than done. It's not as if Abercrombie were not trying to make fashionable clothes a few quarters ago when it was cranking out the styles that flopped so badly in the fall.
The company is crunching to shorten lead times, which may be the best way to keep its offering on trend. Meanwhile, it promises to increase its marketing spending significantly, specifically burnishing its cred with fashion bloggers. Call it kissing up to the cool kids.
Before it's here, it's on the Bloomberg Terminal.
LEARN MORE