Did the State Department Fail Obama on Keystone XL?
By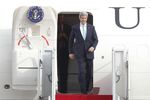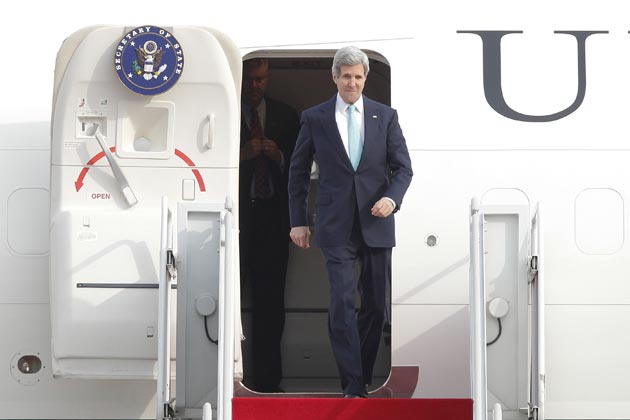 Hearing that Representative Raúl Grijalva (D-Ariz.) convened a press conference yesterday, and fired off a letter (PDF) to the U.S. Government Accountability Office, in an effort to revisit whether a study of the proposed Keystone XL pipeline was compromised by corporate conflicts of interest, a cynic might be inclined to accuse the distinguished gent from Tucson of grandstanding. If built, Keystone XL would carry heavy crude from Alberta's tar sands to the Gulf of Mexico by bisecting Nebraska, not the Grand Canyon. (Well, he is a ranking member of the House subcommittee on public lands and environmental regulation.)
An investor in TransCanada, the Calgary-based company that wants to lay the 875-mile final leg of pipe, meanwhile, might wonder if the congressman simply doesn't know when he has lost. Grijalva, you may recall, wrote another letter back in December urging the full environmental impact statement (EIS) not be released until after the State Department's Office of the Inspector General had completed a review of conflicts of interest uncovered between TransCanada and the firm, Environmental Resources Management, hired to do the assessment and generate the report. Grijalva collected 24 signatures from the House of Representatives for the letter, but the only response he received from State was the release of the environmental report on the Friday before the Super Bowl. The inspector general review he sought was nowhere to be seen. If that's how State treats U.S. elected officials, it's no wonder some foreign leaders are wary.
The inspector general has yet to put a date on when its probe will be complete; the official response is "early 2014." All the same, it's still possible to get an idea of what the review might be looking at or if there's merit to Grijalva's concerns. So let's recap, shall we? It's a tad wonky, but never dull.
First, the key players: Because the pipeline crosses an international border, the decision to approve its construction lies with the president. The process of determining whether the pipeline is in the national interest and can be built safely falls to the U.S. Department of State. TransCanada, as the applicant, pays for the environmental assessment State needs to give it a thumbs-up. For some critics, this already sets up an inherent conflict of interest: What contractor comes back with a report advising that its client's project ought to get spiked? But the only real alternative is for taxpayers to pay for all this work, and that's a nonstarter.
TransCanada itself recommended ERM to State as the assessor after Cardno Entrix, the first company retained to do the work, was alleged to have a conflict of interest. Actually, TransCanada "provided a list of four potential consultants who were qualified to carry out a review of this magnitude," says TransCanada spokesman Shawn Howard, and State settled on one of the four: ERM.
After Cardno Entrix was dropped back in 2011, the inspector general set new guidelines for State to follow, including a requirement that the new contractor disclose any conflicts of interest before beginning work and that State verify its claims on its own. And this is where it gets interesting. Beginning in June 2012, ERM failed:
• to disclose a possible conflict of interest to the State Department until two months after it won the contract, as reported by my colleague Jim Snyder at Bloomberg News;
• to reconcile why ERM listed TransCanada as a client in its marketing materials the year before it began the Keystone contract, even though ERM and TransCanada had both told State that they had not worked together for at least five years;
• to acknowledge, until the summer of 2013, that one of its divisions (ERM West) was working alongside TransCanada on the Alaska Pipeline Project;
• to alert State, until it was already under scrutiny for conflicts of interest, that it was bidding on new contracts in western Canada that might include two new projects for TransCanada, first flagged by the Washington Post;
• to note, as Politico has, that as recently as 2010 it was part of a lobbying group, the International Carbon Black Association, that's partly owned by TransCanada through a subsidiary (Cancarb), and that includes major Keystone XL proponents and potential beneficiaries;
• to mention that it's listed as a member of several trade organizations that support Keystone XL, among them the Western Energy Alliance, the American Fuel and Petrochemical Manufacturers, and the Louisiana Mid-Continent Oil and Gas Association;
• to explain why ERM subcontractors who had worked on TransCanada projects in the past were suddenly removed roughly 24 hours after they were first posted (in a PDF) on the Web, a gaffe that led to a scoop for Mother Jones when the contractor names reappeared later with their affiliations redacted.
Of course, hiring subcontractors who have worked for a client previously, belonging to trade organizations, or obscuring online CVs does not necessarily prevent one from doing honest work. TransCanada, per its spokesman, maintains that "ERM's analysis is independent and free of influence and compromise." But there's just no disputing that ERM, under the "sole direction and control" of State, did not follow State's own conflict-of-interest disclosure guidelines. (ERM declined interview requests for this article, and has declined similar requests since last July.)
And now comes the capper. Far more alarming than any of the above, ERM also relied on another firm to complete its Keystone assessment—and that company, as it happens, is owned outright by a tar sands developer.
As reported by Inside Climate News, critical analysis of greenhouse gas emissions in the Keystone XL EIS relies on research by Jacobs Consultancy, "a subsidiary of Jacobs Engineering, a giant natural resources development company with extensive operations in Alberta's tar sands fields. The engineering company has worked on dozens of major projects in the region over the years. Its most recent contract, with Canadian oil sands leader Suncor, was announced in January."
Why is this such a big deal?
President Obama has indicated that the potential impact of tar sands development on climate change would be a factor in his decision to approve the project. And so ERM acknowledges, in its own report, that it relied on another contractor owned by a tar sands company for critical information about potential climate impacts. Crucially, these impacts were so slight that the New York Times headline read: "Report Opens Way to Approval for Keystone Pipeline." The environmental impact report itself concluded that "the Keystone XL pipeline would not substantially worsen carbon pollution."
"If this were happening in medicine, instead of environmental science, it would be laughed out of town," says Paul Thacker, a fellow at Harvard University's Edmond J. Safra Center for Ethics. "You know, the process is similar in medicine. The big drug companies pay for the clinical trials. But that's why it's so important for the government agency involved to manage the approvals process." He says it's harder for the public to see the conflict-of-interest hazard because it's less immediate than in medicine, which he knows well from running Senate investigations into conflicts of interest in medicine that led to passage of the Physician Payments Sunshine Act.
"I get why [the ERM controversy] hasn't caused as much outrage," he says. "It's not as if grandma is dying from a drug's side effect, or it's a drug causing injuries, or just costing too much and leaving families broke. Here we're talking about outcomes that might be severe, or might not. Managing risk." Even so, Thacker adds, "if the Keystone were a drug, I can't believe anyone would accept how it's been evaluated."
The State Department did not respond to requests for comment for this article. When asked about the conflicts of interest by MSNBC's Andrea Mitchell last month, Assistant Secretary of State Kerri-Ann Jones replied, "We have been working with a third-party contractor, and the third-party contractor was selected using our very rigorous conflict-of-interest screening guidelines, and we feel confident that there are no issues related to this contractor. So we're very confident that we have followed the procedures that we have developed to avoid conflict of interest or any connection between the contractor and the applicant. So it is the same contractor that has been working on this who was selected through that process." Pressed several more times on the conflict-of-interest concerns, Jones offered variations of this boilerplate, and despite the claim of "very rigorous" vetting, there's no evidence that State had done its own verification of ERM's claims.
"This is politics," says Grijalva. "Not science."
The stonewalling despite numerous red flags has Thacker convinced that the environmental report was drafted to give Obama maximum "latitude" in his final decision. "That's what diplomats understand," he says. He's also convinced State was, simply, the wrong agency for this job: "Whereas the [Food and Drug Administration] has its own internal experts and scientists, the State Department doesn't. Perhaps the [Environmental Protection Agency or Department of the Interior] could have done this. I don't think anyone at State really knew what they were looking at here. I still don't."
Before it's here, it's on the Bloomberg Terminal.
LEARN MORE