pursuits
Barnes & Noble Won't Stop Making New Money-Losing Nooks
By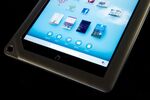 Barnes & Noble is doubling down on its flailing e-book business—but also leaving open the option that it would part ways with the money-losing device at some point.
The bookseller said Wednesday that it's currently losing less money on the Nook than in the past and now plans to release a new version of its Nook in fiscal 2015, which starts in May. But the company also said it is continuing to study the possibility of splitting Nook from Barnes & Noble's retail division.
Like its major foil in e-reading, Amazon.com, Barnes & Noble sees making e-readers not as an end in itself but as a way to sell digital content. In short, Barnes & Noble doesn't have the breadth or the resources to do that; it's hoping that a healthy Nook business gets people into stores, and vice versa. "We firmly believe that having a digital offering is vital for our mission and [is] relevant to the booksellers," said Michael Huesby, the company's chief executive, in an earnings call. "We also have the opportunity to better package physical and digital content offerings together, and we are actively considering and testing."
To do this, Barnes & Noble is proposing something that looks somewhat like clearing the table and starting again. It spent the end of last year selling its old Nooks at discounts and getting rid of 26 percent of the employees in its Nook operations. Device sales dropped more than 50 percent, to $157 million, in the quarter, and digital content sales dropped 27 percent (which the company blamed on selling fewer devices). At the same time, it cut expenses by $52 million.
Rearranging the Nook business has short-term costs. The company says it could spend $40 million in severance and costs related to rearranging its offices as it shrinks the division. But once that is done, Barnes & Noble hopes to start making the devices more efficiently with help from hardware partners. This doesn't solve the main problem that Barnes & Noble faces with the Nook, which comes from the company's desire to make money from e-book sales. Its major competitor in the e-books business doesn't have to do that: Amazon's e-book prices are consistently lower, as it sees books as just one plank in a wider strategy.
The Nook saga continues to wear on investors. Some have been calling for the company to use some of its cash for stock buybacks to compensate them for the cash that the company has already spent on its as-yet fruitless e-book business. Last week one investment firm even made an offer to buy either Barnes & Noble or just the Nook business, even though it didn't have the money to do so. Barnes & Noble didn't seem to bat an eye at the proposal, which didn't come up in its call with investors.
Before it's here, it's on the Bloomberg Terminal.
LEARN MORE