Polar Vortex Sends Macy's Sales Into Deep Freeze
by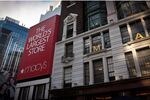 Macy's played the weather card in explaining humdrum earnings this morning, and for once the favored executive excuse seems justified. The 840-store retail empire, which includes Bloomingdale's, suffered through 244 store closures caused by winter misery at one time or another during the recent quarter.
Macy's didn't say exactly how much all those closures cost, but a little back-of-the-envelope math is revealing: The company's daily sales last quarter, which ended on Feb. 1,  broke down to $122,000 per store on average. Assuming that each closure lasted just one day, this works out to almost $30 million in sales swallowed up by snow.
"We are very disappointed with sales performance in January," Macy's Chief Executive Officer Terry Lundgren said in a statement this morning. "Once warm spring weather arrives and our full assortment of fresh spring merchandise is in place, we believe customers will return to a more normalized pattern of shopping." Macy's shoppers: just like migrating caribou.
All told, sales for the quarter were down 1.6 percent, to $9.2 billion, although the year-earlier period benefited from an additional week. Profit increased 11 percent to $811 million. Revenue at stores open at least one year was up 1.4 percent.
Analysts—who, we should note, suffered through the polar vortex as well—had expected quite a bit more commerce. Given the frosty results, Wall Street pundits may be reworking their financial models this morning to factor in bigger weather discounts for retailers yet to report January earnings. Macy's certainly didn't beat Mother Nature, but the results point out an oft-overlooked benefit of e-commerce: A retailer with a Web store doesn't have to rely on hundreds of floor employees trudging to work.
Before it's here, it's on the Bloomberg Terminal.
LEARN MORE