North Dakota Is Leaving South Dakota In the Dust
By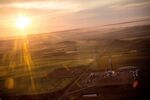 North Dakota and South Dakota have been quiet rivals ever since Nov. 2, 1889, the day the Dakota Territory was split in two and they were admitted to the union as states. For most of the time since, South Dakota has been the big brother. Not only is it slightly larger, more populous, warmer, and more interesting—what with Mount Rushmore, the Black Hills, and the Badlands—but in recent years it has been richer, too.
North Dakota still lacks Mount Rushmore, but it has something even better: oil. As a result, the little brother is suddenly streaking ahead. In 2002, North Dakota's per-capita output was 9 percent below South Dakota's. By 2012, thanks largely to the boom in Bakken shale oil production, its per-capita output had gotten to be 28 percent higher. That's not sitting well with everyone down south (south being a relative term). "Sure, there is some jealousy," Derric Iles, South Dakota's state geologist, told James MacPherson of the Associated Press two years ago. "We want a piece of the economic pie North Dakota has, plain and simple."
North Dakota produces as much oil in two days as South Dakota produces in a year, according to the latest monthly data from the Energy Information Administration. The only hydrocarbon that South Dakota makes a lot of is ethanol, which comes from corn. South Dakota is also a leader in hydropower, which comes from the Missouri River, and wind, which seems to come from just about everywhere. All good, but no match for North Dakota's shale.
To North Dakotans' credit, they haven't done a lot of crowing. Rather than splurging, petro-state style, the state has prudently been saving some of its oil and gas windfall in the North Dakota Legacy Fund, which has accumulated $1.8 billion since its 2011 launch. "Maybe someone goes to Bergdorf Goodman in New York to buy an Armani suit, but we don't see it out and about," John Stern of Straus Clothing in Fargo told Robin Huebner of Forum News Service this month. "It's not really the North Dakota way."
When the website FindTheBest.com put the two states up against each other in a totally unscientific popularity contest, South Dakota won, 55 percent to 45 percent. North Dakota is No. 2 in the nation in bee colonies, but South Dakota is No. 1 in pheasant production, according to a 2007 U.S. Agriculture Department report. North Dakota State's football team crushed South Dakota and South Dakota State on the way to an undefeated season. But South Dakota has the Corn Palace. An so on.
The battle over bragging rights could go on forever. Still, there's no denying that for the moment, South Dakota is eating North Dakota's dust.
Before it's here, it's on the Bloomberg Terminal.
LEARN MORE