New School Health Rules Will Banish Soda Marketing, Too
By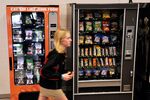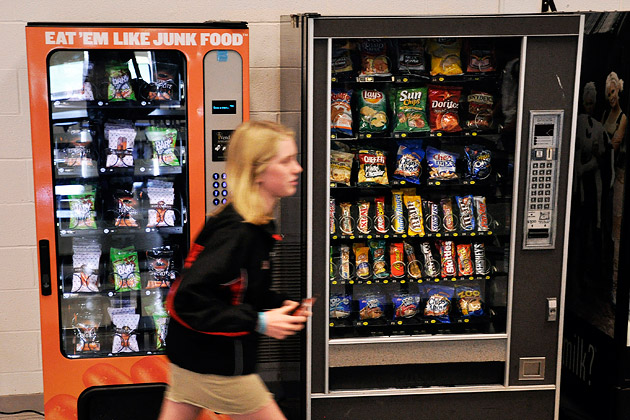 A school is no longer a place for selling cupcakes and soda.
New rules from the U.S. Department of Agriculture will phase out unhealthy foods in schools starting July 1. In a further effort to keep visions of dancing candy bars and cups of soda out of students' heads, at least during the school day, the agency and the White House on Tuesday announced a proposal to phase out advertising of those foods at schools, too.
About 90 percent of food marketing in schools is for beverages, according to the Associated Press. Under the proposal there would be no more Coca-Cola-sponsored scoreboards at high school football games, for instance, nor vending machines, menu boards, or posters touting products that fall short of the standards. The soda company could continue to promote those drinks that meet the standards, such as Dasani water and Diet Coke.
The beverage industry said in a statement that it supports the move. American Beverage Association President and Chief Executive Officer Susan Neely said her group is ready to "align food and beverage signage in schools with the new regulations as the logical next step."
Food marketing to children is slowly changing outside schools, too. Such companies as McDonald's and Burger King have promised to advertise nutritious foods to children as part of the Children's Food and Beverage Advertising Initiative (PDF) an industry-led effort.
Federal rules (PDF) taking effect this summer limit fat, calorie, sugar, and sodium in foods served at elementary, middle, and high schools participating in the National School Lunch Program and School Breakfast Programs, including both public and nonprofit private schools and some child-care centers. Standards include: no more than 200 calories for snacks and side dishes, 35 percent or fewer of total calories from fat per item, no more than 10 percent of total calories from saturated fat, and no trans fats. As for soda, only high schools will be allowed to serve calorie-free variations or drinks that are no larger than 12 fluid ounces, with 60 or fewer calories. Sodas cannot be sold to younger students.
Expect no shortage of options. Consumers' growing focus on health and weight has led snack and beverage makers to develop many alternatives to traditional junk food in recent years; according to NPD, fresh fruit is a growing snack category. This doesn't mean that the new regime will please all palettes: Some schools have reported a decrease in sales after implementing healthy changes to menus.
Before it's here, it's on the Bloomberg Terminal.
LEARN MORE