Mouton '95 Rallying as Dhalluin Focuses on '13 Vintage
Guy Collins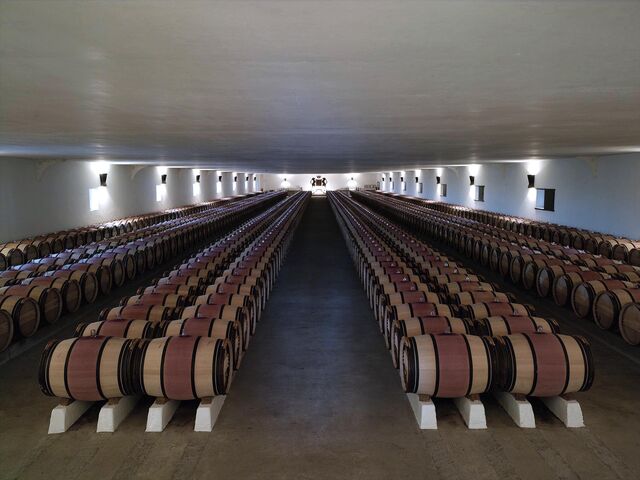 A case of 1995 Chateau Mouton Rothschild, a Medoc first-growth wine estate, sold for 3,250 pounds ($5,400) on Liv-ex in the past week, consolidating an 18-month rally amid signs of demand for older Bordeaux vintages.
The sale, on Feb. 21, was 26 percent above its level of 2,580 pounds touched at the end of July 2012, its cheapest point that year and marking a 30-month low. It has established a narrow trading band in the past three months between 3,200 pounds and 3,300 pounds a case, according to data on the London-based market's Cellar Watch website.
The Liv-ex Fine Wine 50 Index tracking top Bordeaux wines is heading for its sixth straight monthly decline, having fallen 3 percent last year, 10 percent in 2012 and 17 percent in 2011. While collectors and investors, deterred by prices of recent vintages, have diversified outside the region, there are indications of demand for older vintages of top Bordeaux wines.
"The secondary market is a better place to buy than the primary market, as many back vintages look cheap," Miles Davis, a partner at London-based Wine Asset Managers LLP, which has $20 million under management, wrote in a market blog last week.
The 1995 vintage of Mouton is 28 percent below the peak at which it traded in March 2011 as Chinese demand for Bordeaux first growths was still driving prices. It is still more than triple the level of 1,050 pounds at which it first traded on Liv-ex in 2003.
Back Vintages
The 2000 vintage of Mouton has posted a similar 18-month rally, trading at 10,100 pounds a case at the end of last month, up 21 percent from its August 2012 level of 8,350 pounds.
The 1995 Mouton ranks as the Pauillac estate's 13th most-expensive wine of the past 30 years, while the 2000 is by far the most expensive over that period and 65 percent above the price of the 1986, its closest rival, according to merchant prices collated by Liv-ex on its Cellar Watch website.
The 1995 Mouton was given a rating of 95 points on a 100-point scale by U.S. wine critic Robert Parker in a tasting note in February 1998, putting it above at least 19 other vintages from the estate in the past 30 years, according to data on the eRobertParker.com website. The 2000 vintage scored 96+ in a June 2010 assessment by Parker, putting that among Mouton's top five wines of the past 15 years.
While older vintages of Mouton are attracting demand in the secondary market, Philippe Dhalluin, director of Mouton and other wine estates run by Baron Philippe de Rothschild SA, is focusing his attention on the 2013 vintage due to be presented to wine merchants and the wider trade in early April.
Reduced Yields
Cold, wet weather during the spring cut yields, notably of Merlot, while rain at the end of September made grapes more fragile, resulting in a reduced harvest.
"It will be about 70 percent of a normal crop," Dhalluin said in an interview during a visit to London this month. "In years like that, you need resources" such as those available to first-growth estates to make quality wines, he said.
"The wines are definitely better than the 2007s and 2008s," he said when asked about comparisons with recent vintages. "It won't be the vintage of the century, but it will be a good one."
Max Lalondrelle, Bordeaux buyer for London merchant Berry Bros. & Rudd, said that while yields were low in the region because of the adverse weather and some estates had been hit by rot, quality would vary from one producer to another.
Merchant Vintage
"When you actually go down to every single vineyard and look at the individual grapes, some properties have made extremely good fruit," he said in an interview this month. "You can't really generalize. That's why it's kind of a merchant vintage, I like to call it, because every single merchant will have to go down and pick and select the wine they like the most."
Dhalluin said the Bordeaux futures, or 'en primeur,' system, under which wines maturing in barrel are sold through brokers to customers before they become available for delivery in bottles, still works for participants, even after Chateau Latour withdrew from the 2012 vintage.
"We sell 90 percent of our wine en primeur," Dhalluin said. "We think it's the best system for the final buyer." Commenting on the decline in top Bordeaux wine prices over the past three years amid waning Chinese demand, Dhalluin said that Mouton made efforts to ensure its wines were well distributed in Europe, Asia and America.
Balanced Sales
"We pay a lot of attention to making sure our sales are balanced," he said. "We're not dependent on China. The market didn't disappear. It's going through a period of adjustment.
Mouton Rothschild has 84 hectares (208 acres) planted with red-grape vines. The vines have an average age of 44 years and are planted at a density of 10,000 per hectare, according to Mouton's website.
The vineyard, owned by Baron Philippe de Rothschild, was promoted in 1973 to the ranks of the top Bordeaux first-growth estates on the left bank of the Gironde estuary, joining the four other estates designated in the classification drawn up for Napoleon III's 1855 Paris Exhibition.
Mouton has been under the control of the Rothschild family since being acquired by Baron Nathaniel de Rothschild in 1853. The property was developed extensively by Baron Philippe, who ran the estate from 1922 until his death in 1988, and since then has been managed by his daughter Philippine.
Before it's here, it's on the Bloomberg Terminal.
LEARN MORE