McDonald's Teases Extended Breakfast Hours. Again
By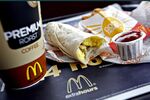 The Golden Arches has provided ample fodder for gossip about its plans for breakfast, teasing the possibility of all-day breakfast for years. Each time speculation mounts,  McDonald's ultimately decides that breakfast would be too much of an operational headache and drops the idea. But having  dabbled with an "After Midnight" menu offering both breakfast and lunch items until 4 a.m. at select locations, the fast-food giant is in the early stages of reevaluating whether it can offer  breakfast over a greater span of hours, according to a report by the Associated Press.
More of McDonald's traditional rivals are expanding morning offerings. Taco Bell is preparing to roll out a national breakfast menu  starting on March 27. Those items will be served until 11 a.m.
McDonald's spokeswoman Lisa McComb said in an e-mail that no tests are currently in place for extended breakfast hours. Fans may be anxious for McDonald's to put its McMuffins where its mouth is—breaking the 10:30 a.m. breakfast barrier once and for all—but an evaluation doesn't necessarily mean the company considering making a full breakfast menu available, or that extended breakfast hours are being considered for the full week. "We know, as an example, that breakfast on the weekend cut off at 10:30 doesn't go very well," Jeff Stratton, president of McDonald's USA, told the AP.
While weighing changes to its breakfast service, McDonald's has been trying to balance the need for improved speed and accuracy of orders by simplifying its lunch and dinner menu. Things may be in flux, but that doesn't necessarily mean customers will soon be able to get hash browns alongside a Big Mac.
Before it's here, it's on the Bloomberg Terminal.
LEARN MORE