Mass Killings in South Sudan Violence Probed by UN Investigators
Paul Richardson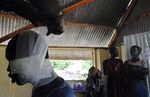 United Nations investigators said they're probing human-rights violations including extra-judicial and mass killings, sexual violence and incidents of torture during the conflict in South Sudan that began two months ago.
Government forces and rebel fighters targeted civilians and soldiers by ethnic identity in the period from Dec. 15, when the violence erupted, until Jan. 31, the human rights division of the UN Mission in South Sudan, or UNMISS, said in a preliminary report. The unit investigated reports of at least three mass graves, one in the capital, Juba, and two others in oil-rich Unity state, and work is continuing to verify all accounts of rights abuses, it said.
Fighting in South Sudan has left thousands of people dead and forced at least 860,000 more to flee their homes, according to the UN. Clashes began after President Salva Kiir accused former Vice President Riek Machar, whom he fired in July, of leading a failed coup. The ensuing violence pitted members of Kiir's ethnic Dinka community against Machar's Nuer group.
"The effect on the human rights situation has been profound," UNMISS said. "Fighting between opposing armed groups took on ethnic dimensions and while some civilians were caught in the cross-fire, others were deliberately targeted along ethnic lines."
South Sudan established "several" committees to carry out investigations into the violence, including one headed by the country's former Chief Justice John Wuol, who is probing the targeted killings of civilians in Juba and other areas, according to UNMISS.
Accountability 'Crucial'
A further report by the UNMISS division will be published by the end of April, it said.
"Holding perpetrators to account is crucial not only for ensuring respect for human rights, but also as a means of addressing the underlying causes of the crisis," UNMISS said. "Accountability, including prosecution and reparations, is also crucial for a national reconciliation to take root."
South Sudan, which gained independence from Sudan in July 2011, has sub-Saharan Africa's third-biggest oil reserves, according to BP Plc data. China National Petroleum Corp., India's Oil & Natural Gas Corp. and Petroliam Nasional Bhd., the main producers of South Sudan's oil, evacuated employees from the country because of the fighting.
Before it's here, it's on the Bloomberg Terminal.
LEARN MORE