Ukraine Bonds to Currency Slide as Russia Points to Default Risk
Andras Gergely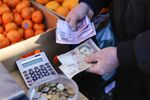 Ukraine's bonds ended a three-day rally and the currency plunged to a record as Russia warned the former Soviet republic may default, while the nation's interim leaders delayed a vote on a unity government.
The hryvnia, which is managed by the central bank, lost 6.4 percent to 9.8000 per dollar, extending its slump this year to 16 percent, according to data compiled by Bloomberg at 6:07 p.m. in Kiev. The yield on government bonds maturing in April 2023 climbed 30 basis points to 9.56 percent, after the rate fell 211 basis points in the last three days.
Ukrainian assets are coming under renewed pressure following remarks by Russia's deputy Finance Minister Sergei Storchak that the nation's neighbor faces a "high" probability of defaulting. Russia has suspended a $15 billion aid package and Ukraine's acting President Oleksandr Turchynov said the country needs as much as $35 billion of foreign aid to be able to meet its obligations.
The rally in Ukrainian assets "was far too premature," Regis Chatellier, a London-based strategist at Societe Generale SA, wrote in e-mailed comments. "There are too many political uncertainties to justify such a move, and the risk of default is still there."
Ukraine's attempts to secure aid pledges from Western sources faced a delay after Turchynov pushed back a parliamentary vote to select a national unity government to Feb. 27 from today. He indicated the administration would need to be formed quickly to receive aid from international donors.
Maturing Debt
The nation is facing about $15 billion of liabilities, excluding interest, through the end of 2015, with $1 billion of bonds due in June, data compiled by Bloomberg show.
Those notes traded 2.2 percent lower at 94.526 cents to the dollar today, after gaining for three days. The currency is poised to weaken to 10.2750 per dollar in three months, according to trading in non-deliverable forward contracts, data compiled by Bloomberg show. The rate rose 3.3 percent today.
Ukrainian shares bucked the downtrend, climbing 1.5 percent and taking the four-day rally to 25 percent as investor sentiment improved following the removal of President Viktor Yanukovych from power last week.
With Yanukovych on the run after weeks of anti-government protests turned deadly, the new leaders are grasping for a financial lifeline as Russia weighs the fate of its bailout, which was granted in December. The U.S. and the European Union have pledged aid to the administration. Russia says it won't meddle in Ukraine's affairs and urged the West to do the same.
'Too Bullish'
"The markets are much too bullish now regarding Ukrainian risk assets," Michael Ganske, the head of emerging markets at Rogge Global Partners Plc in London, said by e-mail today. "I see the hryvnia going down further" to 12 versus the dollar.
The central bank has eased its grip on the hryvnia as it contends with slumping foreign-exchange reserves, which tumbled 28 percent in the year through January to $17.8 billion, the lowest level since 2006. The currency lost 1.1 percent to 9.0377 per dollar, according to the bank's reference rate, taking the retreat this month to 12 percent.
Foreign Aid
The EU will probably formulate a "short-term" package by the start of next week that will help avert default, Elmar Brok, chairman of the European Parliament's foreign affairs committee, told reporters in Strasbourg, France, today.
Russia opposes the inclusion of its first $3 billion tranche in a possible restructuring, Storchak told reporters in Moscow today. There's a "slight" risk Ukraine won't repay the first installment of the bailout and Russia is under no legal obligation to provide the remaining amount, he said.
"Ukraine is now facing the full draft of Russian displeasure following the ousting of the Yanukovych regime," Timothy Ash, London-based chief emerging-market economist at Standard Bank Group Ltd., said by e-mail today.
Before it's here, it's on the Bloomberg Terminal.
LEARN MORE