Henderson's Gotham City Office Tower in London Wins Approval
Patrick Gower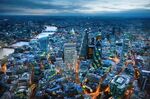 Henderson Global Investors Ltd., the manager of $118 billion in assets, won local-government approval to build a London office complex capped by a 156-meter tower nicknamed Gotham City.
The City of London Corporation gave the company permission at a meeting today to develop the project at 40 Leadenhall Street near the Lloyds of London building. The 36-story tower will be part of a 122,000 square-meter (1.3 million square-foot) office complex in the U.K. capital's main financial district, according to a filing by the City.
"The completed scheme will fit in with the rich urban character of streets and spaces of EC3 with tall towers and lower-rise blocks," Geoff Harris, director of property development at Henderson, said in an e-mailed statement. "The shifting vertical planes of the scheme rise to complement the cluster of tall buildings on the skyline."
Developers in London are ramping up construction as demand for new offices climbs. Rentals in central London increased by 41 percent to 13.1 million square feet in 2013, according to broker Knight Frank LLP.
Walkie Talkie
Developers that started office towers in 2010 have leased most of the buildings before they've been completed. The 20 Fenchurch Street tower, a Land Securities Group Plc and Canary Wharf Group Plc project known as the Walkie Talkie, is 64 percent leased and has deals for another 23 percent awaiting legal approval, according to the companies. British Land Co. and Oxford Properties Group Inc. said they have agreements for more than half of the Leadenhall Building, known as the Cheesegrater, ahead of completion in the middle of this year.
The proportion of office space that's empty on the western side of the district has dropped to as low as 2 percent, Peter Rees, the City planning officer said during today's meeting. The district should maintain a vacancy rate of about 8 percent, he said.
Henderson's project, designed by London-based architects Make Ltd., will cost about 391 million pounds ($652 million) to build, Henderson said on Sept. 17. It will be completed by 2019 at the earliest, Nick Deacon, the company's former property director said at the time. Henderson plans to secure tenants for 300,00 to 350,000 square feet of space before beginning construction, he said.
The development will also include 3,684 square meters of retail space.
Leases for offices with a total of 2.7 million square feet in the City are due to expire in 2019, according to data compiled by Knight Frank.
Before it's here, it's on the Bloomberg Terminal.
LEARN MORE