Geithner's Book to Tackle His Image as Wingman of Wall Street
Kasia Klimasinska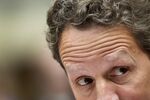 Timothy Geithner's memoir will explain his decisions during the global financial crisis, tackle any misperceptions and describe surviving a political firestorm from Wall Street to Main Street, he said.
The book, titled "Stress Test: Reflections on Financial Crises," is scheduled for release May 13, Crown Publishers, a unit of Random House LLC's Crown Publishing Group, said in a statement today. The title refers to reviews the government ran on the biggest financial companies to ensure they could withstand stress stemming from markets or the economy.
The book will cover the "most controversial and politically unpalatable decisions" Geithner made as Treasury secretary and previously as the head of the Federal Reserve Bank of New York, according to Crown's statement. It includes the Lehman Brothers Holdings Inc. bankruptcy in 2008, the American International Group Inc. bonuses controversy and post-crisis financial regulation tightening, the publisher said.
"I hope this book will help answer some of the questions that still linger about the crisis," Geithner said in a statement on the book's website. "Why didn't we nationalize more banks, or let more banks fail? How did we manage to convince the left we were Wall Street's wingmen while convincing Wall Street we were Che Guevaras in suits?"
Geithner, 52, is scheduled to start as president and managing director of New York-based buyout firm Warburg Pincus LLC March 1 after more than 25 years in public service.
Public Service
He started working in government in 1988, when he joined the Treasury Department after working as a consultant. He later moved to the International Monetary Fund and then the New York Fed, where he was president during the onset of the U.S. financial crisis. In 2009, he became Treasury chief under President Barack Obama, a position he held until January 2013.
His four years in office were marked by crises. In September 2008, when Geithner led the New York branch of the Fed and four months before he moved to the Treasury, the government rescued insurer AIG and allowed Lehman Brothers to fall into bankruptcy. Geithner then supervised the Treasury's Troubled Asset Relief Program bailouts of companies including Citigroup Inc. and General Motors Co.
Geithner was the main proponent of the May 2009 stress tests for 19 of the biggest U.S. banks, including Bank of America Corp. and Wells Fargo & Co., that boosted investor confidence in the financial firms.
In the following months he became the administration's point man to Congress on what became the Dodd-Frank financial overhaul law. The bill created a consumer-protection bureau, toughened rules on derivatives trading, set up a liquidation process for failing banks and put under Fed supervision bank-holding companies with more than $50 billion in assets -- a group that includes Goldman Sachs Group Inc. and JPMorgan Chase & Co.
Before it's here, it's on the Bloomberg Terminal.
LEARN MORE