A Humiliated Putin Plans His Next Move in Ukraine
By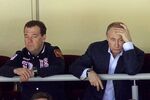 Vladimir Putin is pondering his position after pro-Western protesters swept to power in Ukraine. The sudden overthrow of Putin's ally, Viktor Yanukovych, has left the Kremlin leader at a loss, struggling to maintain his country's influence in the Russian-speaking eastern and southern parts of Ukraine.
In Kharkiv in the east, the second-largest city in Ukraine and a scientific and industrial powerhouse in the Soviet era, a few dozen local residents were standing guard in front of a statue of Vladimir Lenin. Jubilant activists have been toppling monuments to the founder of the Soviet state in other Ukrainian cities. With police obeying orders from the authorities in Kiev, and the Yanukovych-appointed local governor locked out of the regional administration, pro-Russian forces are on the defensive. In Donetsk, an industrial region, local authorities have kept a low profile, and the mayor of Dnipropetrovsk has defected from the former ruling Party of Regions.
Russia, which pledged a $15 billion bailout and cut-price gas to induce Yanukovych to walk away from a free-trade agreement with the European Union, is seeing its goal of creating an economic bloc to rival the EU vanish. The Russian customs union would only work with the participation of Ukraine. That now seems unlikely. "President Putin has now arguably suffered his most significant foreign policy defeat in a decade," since Ukraine's Western-backed 2004 Orange Revolution, says Tim Ash, the London-based chief economist for emerging markets at Standard Bank Group.
A congress of 4,000 delegates from southeastern Ukraine held on Feb. 22 in Kharkiv—the first stop for Yanukovych when he fled the capital—refused to defy the new regime in Kiev. If they had, it would have marked a possible first step toward secession. A breakaway, pro-Russian rump state would have kept Moscow's ability to shape events in Ukraine. Instead the "deeply passive" population of eastern Ukraine is unlikely to rise up in opposition to Kiev, according to a prominent local figure, pediatrician Evgeny Komarovsky. "It's as quiet as a cemetery here," he says in an interview in his children's clinic in Kharkiv. "There are no real fighters."
From Moscow's perspective, the would-be separatists are seen as weak, according to Sergei Markov, a Kremlin adviser and a vice rector of the Plekhanov Russian University of Economics in Moscow. "Yanukovych was counting on some support from the Kremlin, but he didn't get it," Markov says. "Russia decided that these people aren't serious and can't be counted on."
In Ukraine's southern peninsula of Crimea, where Russia's Black Sea fleet is based in the port of Sevastopol and 60 percent of the population are ethnic Russians, there is more scope for Russia to intervene.
Hundreds of protesters massed outside the regional Parliament in Simferopol on Feb. 25 to demand that the speaker of the assembly, Vladimir Konstantinov, denounce the Kiev authorities and call a referendum on joining Russia. "This is the best way to maintain peace and security in Crimea," said one of the demonstrators, Andrei Kratko. "Russia is a strong state. Ukraine is anarchy." The prime minister of the autonomous territory, Anatoly Mogilev, dismayed many in Crimea when he said he would obey orders from the new central government. On Feb. 26, in a pair of opposing demonstrations involving thousands, ethnic Tatars faced off against pro-Russia protesters outside the parliament in Simferopol. One person died from a heart attack and seven others were injured.
Russia may be tempted to take control of Sevastopol, where many of the residents have Russian nationality, according to Volodymyr Fesenko, head of the Penta Political Analysis Center in Kiev. "This allows Moscow to guarantee its interests, without directly intervening in Ukrainian affairs," Fesenko says. "It's a mild repeat of the Georgian scenario." After U.S.-backed President Mikheil Saakashvili came to power in the ex-Soviet republic of Georgia in 2003, Russia supported two breakaway regions. Saakashvili fought a five-day war with Russia in 2008 in a failed bid to bring one of them under control.
Even a move in Sevastopol may be too risky for Putin, as this may provoke a wider conflict that could threaten Ukraine's existence, says Margot Light, professor emeritus at the London School of Economics. "I don't think they'd try to do what they did in Georgia because they'd be too anxious, as everybody must be, that they'd cause the disintegration of the country, that they'll cause civil war," Light says.
That leaves Russia's position as a supplier of 80 percent of Ukraine's gas and main creditor as its main bargaining tool. Russian Deputy Finance Minister Sergei Storchak said on Feb. 25 that his country is under "no obligation" to disburse the rest of the $15 billion in aid it pledged after paying a first installment of $3 billion in December. "Russia's main task now is to maintain as many pressure levers as possible over Ukraine's future government," Jonathan Eyal, international director at the Royal United Services Institute in London, wrote in a research note.
— With assistance by Ott Ummelas, and Aliaksandr Kudrytski
Before it's here, it's on the Bloomberg Terminal.
LEARN MORE