Using the Google Cloud to Stop Illegal Logging
Christina Larson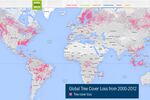 The planet lost a net total of 1.5 million square kilometers of forests—roughly the size of Mongolia—from 2000 to 2012, according to a recent analysis of satellite maps by scientists at the University of Maryland and Google. Unfortunately, just glimpsing the scope of ecological damage after the fact leaves policymakers with limited options. Last week the environmental nonprofit World Resources Institute in Washington, Google Earth, and other partners launched a new online tool, Global Forest Watch, to provide close-to-real-time information about changing global forest cover.
Illegal logging operations often happen far from big cities—and government and public scrutiny. But updated satellite maps and crowd-sourced data can change that. "Businesses, governments, and communities desperately want better information about forests," WRI president Andrew Steer said in a statement. "From now on, the bad guys cannot hide, and the good guys"—those promoting successful efforts at reforestation—"will be recognized for their stewardship."
While Brazil's aggressive efforts to track and combat illegal logging have slowed the rate of deforestation in the Amazon, the growth of oil-palm plantations in Indonesia has fueled rapid deforestation there. According to an October 2013 report from Greenpeace, the loss of rainforest habitat in Indonesia is pushing the Sumatran tiger to the brink of extinction.
China has admirably reversed a trend of deforestation by protecting and replanting forests in recent years. Yet growing demand for wood to build and furnish homes for the country's fast-growing urban middle class is fueling a global illegal logging network. According to a November 2012 report (PDF) from the British nonprofit Environmental Investigation Agency, China is the world's largest importer of wood products. In 2011, China imported 180 million cubic meters of timber worth $9.3 billion—up 28 percent from 2010 levels, and more than 300 percent higher since 2000. Through extensive undercover investigations, EIA discovered Chinese wholesalers purchasing illegally mined logs from Russia, Papua New Guinea, the Solomon Islands, Myanmar, the Congo, and elsewhere.
Illegal mining isn't only an environmental problem. As the EIA report makes clear, illicit transnational timber-trade networks function much like drug cartels. "Violence and murder are often associated with the illegal timber trade, with loggers, journalists, and local activists being targeted," the report states.
Making close-to-real-time information about deforestation public and readily available isn't in itself a solution, but it's a step towards one. New technology has made the online tool possible. As WRI forest campaigner Nigel Sizer wrote in a blog post, "What would have taken 15 years using one computer can now be processed in hours using the Google cloud."
Before it's here, it's on the Bloomberg Terminal.
LEARN MORE