pursuits
Japan, Asia's Next Gambling Hub?
By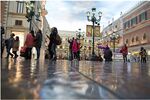 After having opened casinos in Macau and Singapore, Sheldon Adelson is focusing on another new Asian market. Adelson has profited nicely from the boom in gambling in the former Portuguese colony and the Southeast Asian city-state. Now the chairman of Las Vegas Sands wants to build a new gambling resort, this time in Japan. Adelson told reporters in Tokyo today he is willing to invest $10 billion in the country. "We will spend whatever it takes," he said.
As he talks up his investment plans, the Vegas tycoon no doubt is hoping to get the attention of Japanese lawmakers. Casino gambling isn't legal in Japan. But the supporters of Prime Minister Shinzo Abe may take care of that problem soon. Abe is in favor of legalization, and his Liberal Democratic Party controls the Diet, the Japanese parliament that's now considering a bill to open the market to casino gambling.
Previous legalization efforts foundered, but with Abe's support and Tokyo's status as host of the 2020 Olympics providing momentum, the chances of success are now greater than ever. Legalization has also won the support of prominent business leaders. Abe's economic policies may also be helping win over former skeptics worried about the social ills associated with gambling. With the home market closed, Japanese who have wanted to indulge have had to go to casinos in Asian locales such as South Korea, the Philippines, Macau, and Singapore—if not farther afield to Australia, the U.S., and Europe. Malaysia's Genting, Southeast Asia's largest casino operator, is upgrading its resort in Malaysia and is working with a Chinese joint-venture partner on a $2.2 billion resort on the South Korean island of Jeju, Genting's partner, Landing International, said on Feb. 7.
But with the yen now weaker thanks to Abenomics, Japanese tourists are finding such overseas destinations more expensive. Moreover, Japan is now a lot more affordable for foreigners who might want to consider a holiday at a gambling resort in Tokyo, say, or Okinawa. Singapore's population is less than half that of Tokyo's, but the tiny city-state gets almost 50 percent more foreign visitors a year than Japan, Bloomberg Industries analyst Tim Craighead wrote in a report published on Feb. 19. As a result, according to Craighead in a separate report on Jan. 20, Japan "has the potential to become the 'next big thing' beyond Macau."
At a time when Abe's economic program faces a major challenge with the increase in the consumption tax in April (going from the current 5 percent to the new 8 percent), lifting the ban on casinos in the world's third-largest economy could generate a nice boost for Abe. "If lawmakers drop the ban, we expect cash to rain down on the sector," wrote analysts from CLSA in a report published today. Japan could become the world's No. 3 destination for casino gambling, they wrote, behind only the U.S. and Macau.
Before it's here, it's on the Bloomberg Terminal.
LEARN MORE